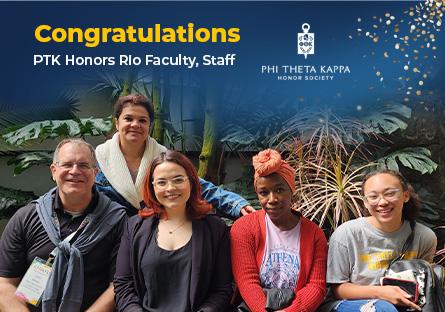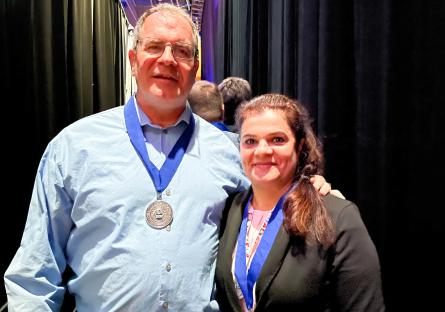 Rio Salado's Phi Theta Kappa (PTK) Alpha Theta Omicron Chapter members and staff enjoyed accolades and celebrations for their contributions to the community college academic honor organization during the most recent national convention.
PTK students and advisors traveled in April to Catalyst 2023 in Columbus, Ohio. Once there, Rio Salado students Marielena Aguirre, Zoe Bell, and Beka Namachanja, along with alumni Cordero Holmes, joined 3,000 other attendees in the events.
One of the highlights was the celebration of the 2023 Distinguished Chapter Advisor Team award presented to Dr. Lily Davidov and John Bastian. The award is given for demonstration of exceptional atmosphere of teamwork, leadership abilities, and promotion of PTK programming. 
Holmes, a 2022 Rio graduate, was recognized as a PTK advocate, as well as for his selection as a Jack Kent Cooke scholar. On the regional level, Rio's chapter was named an honorable mention chapter. This recognition came from combined scores of the chapter's PTK Honors in Action project and college project, which were among the top tier of the 600 active chapters.
Newly inducted PTK member Marielena Aguirre, who is looking to complete a certificate in addictions and substance abuse studies, noted some of the inspiration she received from attending the event.
"I learned how to develop and implement new personal and professional strategies into my life through the incredible educational forums centered around an array of topics," she said.
Bell, an engineering and sustainability student, said PTK Catalyst helped her "understand the importance of democracy, exploration, and collaboration within my community.
Namachanjam, who is pursuing a degree in addictions and substance abuse, said she enjoyed building "connections with fellow chapter members and advisors," as well as learning about opportunities post-Rio during the college transfer fair.
Davidov and Bastian presented at the conference, talking about how to "Create Engaging, Productive Chapter Meetings," to a standing-room only audience. One audience member sent a follow-up email to the advisors, noting their section about creating a "clear purpose" for each meeting and using student surveys to gauge interest in topics and chapter activities was inspiring and a practice he plans to implement, Davidov said.
One of the big takeaways for students and advisors was learning to balance the various pillars in their lives - family, health, spirituality, work and community - and how upheaval or struggles in one area can impact all of them. 
"That's why it's so important for us to be kind to one another. Community/fellowship is one of the main domains and one of the Hallmarks of PTK," Davidov said. "All of the students learned about how they have their PTK community and to realize they have a safe space to learn and laugh." 
Making sure everyone enjoyed the full experience, students and their advisors took time to build their community over meals of international cuisine around the conference, as well as experiences at the local botanical gardens and science exhibitions, Davidov said.
Finally, keynote speaker Manti Te'o inspired participants to always remember that, "As long as your 'why' is strong, your 'how' is easy," Davidov said.