Tuesday, February 14, 2023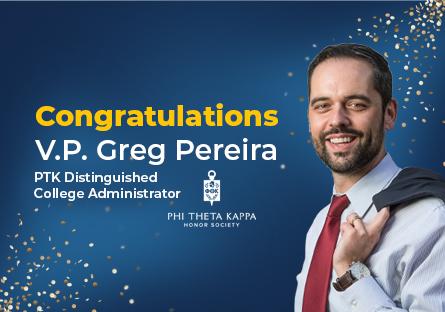 Dr. Greg Pereira, Rio Salado College's Vice President for Student Affairs, has been named a 2022 PTK Distinguished College Administrator. The award recognizes college administrators for their outstanding efforts in working directly with student leaders to solve problems on campus and better their communities. Thousands of college administrators are eligible for the award each year, but only a small number nationwide receive this honor. Pereira was nominated by several members of the Rio community, including PTK students and advisors.
"I am deeply humbled by all this and all I can say is thank you," said Pereira. "It is an absolute privilege to work with our PTK students."
Those who nominated Pereira for the award praised him for his regular participation in PTK Induction Ceremonies, his willingness to provide feedback to PTK students involved in the College Project, and for encouraging the Rio chapter to attend regional and international events. He was even willing to use funds out of the Student Affairs budget to enable a Faculty Advisor to go with PTK students to the Catalyst Convention. 
PTK alumni Ashanti Ruiz shared this in the nomination form: "Dr. Greg Pereira has made a tremendous impact on the lives that he touches. I personally met him for the first time at Spot 127 [a radio station for youth] where he helped coach students like myself who are first generation and aspire to be in higher education. It was with his helping hand that I realized that college was a possibility for me."
The nomination also notes the personal words of support Pereira offers students during their interactions: "At one ceremony he shared with students how important it is to have a hobby that they are bad at and that they should embrace losing – saying that life comes with wins and loses, what makes us successful is how we adapt to both. … several students contacted him afterwards and told him that his words really impacted them." 
"Because of his efforts, I've been able to connect directly with students," said PTK Faculty Advisor Dr. Lily Davidov. "He made it possible for us to attend our national convention in 2022, even when the college budget was tight. That made a huge difference in being able to interact with our PTK students and other leaders."
Pereira and the other recipients of the Distinguished College Administrator Award will be honored at Phi Theta Kappa's Annual Convention on April 20-22. This year's guest speaker will be two-time Academy Award winner Geena Davis.
Pereira hasn't been the only member of the Rio community to receive awards and formal recognitions for their community work. Several Rio PTK students and advisors were honored for their work in 2021 by both regional and international PTK honor societies:
2021 Regional Awards
5 Star Chapter

Distinguished Chapter -

Cordero Holmes

Distinguished Chapter Member -

Carolyn Shack

Distinguished Advisor Award -

John Bastian

College Project Hallmark Award, 2nd place

Honors-in-Action Hallmark Action, 2nd place

Distinguished Chapter Award
2021 International Awards:
5 Star Chapter

Distinguished Chapter Officer --

Cordero Holmes

Top 100 Chapters Internationally
This marks a continuing tradition of excellence with Rio's PTK chapter, who also received several notable accolades and awards for work in 2020.
Article by Austin Brietta