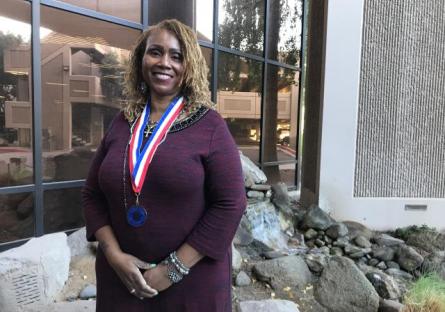 A brown lunch bag may look plain to the eye but it's packed with love. That's one of the guiding philosophies behind Carolyn Shack's Free Brown Bag Lunch initiative. Serving the community as a nurse, Shack enrolled in Rio Salado to study and earn a degree in Addictions and Substance Use Disorders (ASD); she's set to take her board exam for advanced addiction counselor in September 2022.
Shack has long felt a deep empathy for the homeless and felt compelled to do something to help them.  It was while studying at Rio Salado that Shack decided to take action.
"It was January 25th in 2021: I was doing some of my online classwork and something said to me that it was time," Shack said. "So I ran to the store and got bags and food—sandwiches, meat, chips, and so forth. I made 75 bags and took them down to what was, at the time, a zone for the homeless in downtown Phoenix near our state capital. They had gates up because of COVID, but it was easy to take the bags down there. The guards were helpful in passing them out."
That initial sojourn to feed unsheltered Arizonans became the first of many visits for Shack, who would continue to bring bags of much-needed sustenance to those who need it most. When the displaced citizens were moved away from the capital and back out onto the streets, Shack found that she could no longer rely on the help of the guards to distribute her bags.
That's where Rio Salado's PTK chapter comes in.
"I reached out to Cordero Holmes— he was the first one that I called," Shack said. "He started helping with Free Brown Bag Lunch right away. We've been doing this together as a team with help from PTK students and alumni from Rio since 2021." In addition to being in PTK, Holmes and Shack have another thing in common: both alumni were recognized as Rio Salado's 2022 All-Arizona Academic Scholars and received Coca-Cola Academic Team Scholarships.
Shack's volunteer base has grown over time: she currently has 30 volunteers, many of whom are Rio PTK and honors students, helping feed the displaced and disadvantaged.
"We're growing really fast and I wouldn't have been able to do this if I hadn't been in Rio and felt the love that I feel coming from PTK and from our president," she said, referring to Rio Salado President Kate Smith. "She's been very supportive. I don't think that it would be thriving like it is today. Inhye Peterson [Phi Theta Kappa Arizona Alumni Association Co-Advisor] and John Bastian [Director of Student Life]  have been my rock. When it comes to Free Brown Bag Lunch, they have been two of my biggest supporters."
Since its humble beginnings in early 2021 Free Brown Bag has grown big enough that volunteers are easily recognizable with their yellow shirts and positive attitudes.
"We're now feeding over 300 people a month," Shack said. "We talk with them , we mingle, we smile. And every month we try to add something different. This month I'm doing a thermoflask drive. We're collecting thermals and we're gonna fill 'em up with ice water and pass them out."
Shack's thermoflask donation drive isn't just to help hydrate homeless citizens; it's a way of giving them a useful tool to enhance their quality of life. 
"What triggered this was that one of our student volunteers, a young girl, always brings extra bottles of ice water and ice packs. A gentleman walked up to her and said 'can I get one of those cold packs so I can store my insulin in there?' So these thermals are like giving them little refrigerators. They can put medicines in there, hot fluids, coffee, whatever they need to stay warm." 
Free Brown Bag Lunch remains a non-profit organization. Its 501(c)(3) status is pending. Shack's dedication to helping those in need is laudable, but she makes it clear that it takes a village to keep everyone fed.
"I turn to fellow students and they step forward," Shack said.
Article by Austin Brietta