Friday, September 22, 2023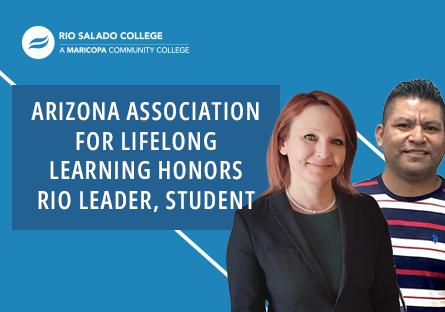 Rio Salado College is proud to be the largest provider of Adult Education in Arizona, helping students receive the training and career-ready skills they need to move forward professionally. Adult Education not only offers adults a second chance to continue their education—it also boosts and revitalizes our local economy. Skilled workers are highly in-demand and Adult Education programs help workers "skill up" to meet that need.
Each year the Arizona Association for Lifelong Learning (AALL) recognizes the achievements of Adult Education students and instructors. Rio Salado has been honored by the AALL in the past, and we couldn't be more thrilled that two of our community members were recognized as 2023 AALL award recipients.
Bernabe Santiage Gonzalez, ELAA Student of the Year
This award honors an English Language Acquisition for Adults (ELAA) student in recognition of persistence, leadership, and contributions to the field of adult education. Bernabe Santiago Gonzalez distinguishes himself greatly in this respect. Hailing from a small indigenous town in Mexico, Bernabe dreamed of becoming a doctor. He came to the States in pursuit of the dream, working full-time to support his family while learning English and working toward his high school equivalency diploma.
Bernabe's native language is Nahuatl, a language of the Aztec people of Mexico. He also speaks Spanish. He is currently an Advanced English Language Learner (ELL) student who has also completed certification and training courses in Retail Fundamentals and digital media skills. He hopes to get a promotion within his current job to become a restaurant manager which will help him financially as he continues working toward his long-term education goals.
Dr. Tamara Cochran, Award of Excellence, in Honor of Gary P. Tang
Dr. Tamara Cochran was recognized by the Arizona Department of Education's Adult Ed Institute in Tucson at a luncheon on Saturday, Sept. 9. The well-deserved award was given to highlight Dr. Cochran's contributions to the field of adult education through supportive instruction, legislation, public leadership, innovative services, and fostering a spirit of inter-agency cooperation. 
Dr. Cochran currently leads the Community Development Division at Rio Salado College. The division is dedicated to growing adult education and career training programs for students. Dr. Cochran's exemplary leadership skills and ability to inspire and guide others has been crucial to developing and maintaining working relationships between the college, our sister schools in the Maricopa Community College District, and our partner organizations. She is also known for leading strategic planning teams and initiatives that promote student achievement and support employee development & advancement.
September Marks Workforce Development, National Adult Education and Family Literacy Week 
Adult education plays a critical role in lifting barriers to employability - from English language acquisition to secondary diplomas to job skills training. Rio Salado is the largest provider of adult education in Arizona, leading the way to help adults receive the training and skills needed for career advancement, which in turn boosts the local economy. We recognize this year-round but especially in September during National Workforce Development Month and National Adult Education and Family Literacy Week, which began Sept. 19. Both celebrations note the importance of adult education and workforce training in building strong communities.
What is Adult Education?
Each year, Rio Salado's adult education classes help Arizonans:
Earn a high school equivalency diploma through the GED® test or other pathways

Improve English language skills

Gain essential employability skills

Train for an exciting career

Transition to college
Dedicated instructors, success coaches, college and career navigators, tutors, and staff help thousands of new students who enroll each year to reach their goals.
Adult Education and Workforce Development Opportunities
Medical Administrative Assisting

- Rio Salado partners with Phoenix College to offer students a direct pathway to enroll in Phoenix College's medical assisting program. Students who participate in the GED® Test Prep program at Rio can enroll in Phoenix College's 18-unit Medical Assisting certificate program. Program completion gives students the skills and knowledge for front office work in the medical field. 

Constructional Trades

– As part of this partnership with South Mountain Community College (SMCC), Rio Salado offers GED® test prep courses at SMCC where students can simultaneously enroll in one of SMCC's Construction Trades Institute (CTI) programs to complete training in the carpentry, plumbing or electrical fields. 

Rio Salado College at West-MEC

– Locations in Buckeye and North Phoenix offer GED® Test prep classes both day and evening to help students develop the academic skills to obtain a high school equivalency diploma. Students may also co-enroll in welding training at West-MEC.

Rio Salado Semiconductor Manufacturing

- Adult education students have the opportunity to co-enroll in adult education classes (GED® Test Prep or English Language) and earn a certificate in Semiconductor Manufacturing. With the global chip shortage impacting several key economic areas, including automotive, consumer electronics, and cyber security, U.S. companies are in urgent need of trained workers. "Rio Salado College is training technicians for the semiconductor industry, as well as related micro and nanomanufacturing services," said Dr. Rick Vaughn, Faculty Chair for STEM initiatives. The next cohort starts in October. 

Additional Adult Education Career Training

– Rio Salado offers a variety of training opportunities – App Development, Cybersecurity, Entrepreneurial Studies, General Business, Retail, Risk Management and Insurance and more - that are directly aligned to making an impact in the workforce. 
If you're interested in pursuing Adult Ed classes at Rio, talk to our team at (480) 517-8110. For more information on GED®/HSE classes, visit Rio Salado's GED® test preparation page.
Read more about Rio Salado's adult education programs online.
Article by Austin Brietta