Wednesday, September 21, 2022
Notice
This article appears for archival purposes. Any events, programs and/or initiatives mentioned may no longer be applicable.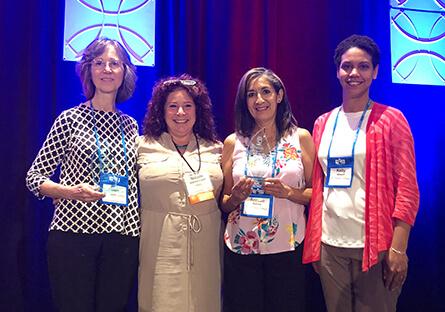 September Marks Workforce Development, National Adult Education and Family Literacy Week
Adult education plays a critical role in lifting barriers to employability - from English language acquisition to secondary diplomas to job skills training. Rio Salado is the largest provider of adult education in Arizona, leading the way to help adults receive the training and skills needed for career advancement, which in turn boosts the local economy.
We recognize this year-round but especially in September during National Workforce Development Month and National Adult Education and Family Literacy Week, which began Sept. 19. Both celebrations note the importance of adult education and workforce training in building strong communities. 
According to the National Skills Coalition, 48 percent of job openings will be middle-skill and 32 percent will be high-skill by 2024. Soon, nearly 80 percent of all job openings will require more than a high school degree.
"Our goal is to create guided pathways for our adult learners that lead to meaningful employment, increased wages, and career advancement opportunities that will positively impact them, their families, and the Arizona workforce system," said Dr. Tamara Cochran, Rio Salado College Dean of Instruction and Community Development. "Through integrated academic and workforce training programs, we can help our adult learners upskill for the jobs of today and tomorrow."
The students and staff are the backbone of the program, said Elizabeth Cole, Director of Outreach and Partnerships and Community Development.
"Adult education builds a partnership to create a more educated workforce, elevating one family at a time toward economic and social mobility" she said. 
Exemplary staff and students were recognized with Arizona Association for Lifelong Learning awards during the recent Adult Education Institute. Two Rio students and two Rio staff members received the honors. Three of them were present at the event to receive awards.
Araceli Galinis - Support Staff of the Year Award
This award honors an employee who contributes significantly to improving services for students. Galinis joined Rio part-time in summer 2009. After four years, she moved into an administrative specialist senior position at Rio's Northern location.
"To see how many lives we have changed is my motivation to continue working for Rio Salado," Galinis said.
Among the accolades on Galinis' nominations, one notes: "When registering new students or helping existing ones, Araceli goes above and beyond to make sure every student's request is fulfilled."
Aliza Dodell - Lifelong Learning Advocate Award in Honor of Francis E. Blake
This award honors an AALL member with a minimum of five years of contribution to the field of Adult Education and positively impacts or adds value to the concept of learning as a lifelong process. Dodell joined Rio in January 2004. Dodell currently serves as an administrator at Rio's Southern location.
"I have always enjoyed helping and sharing my knowledge with others," Dodell said. "In college when I was a chemistry tutor, I truly enjoyed explaining the concepts in a way that made sense to the other students. It was very satisfying to see them having a sense of accomplishment and feeling proud of themselves."
In the nomination, a colleague wrote: "Aliza is an advocate for all students, taking time to meet each student and then building a relationship with them."
Hillary Marissa Broughton - Student of the Year ABE Award
This award honors an ABE/HSE (High School Equivalency) student active during the current calendar year, demonstrating persistence and leadership, and contributing to the field of adult education.
Broughton's instructor, John Van Meter, wrote in her nomination: "Her leadership in our classroom was evident when she started a tutoring group on the first day of class. … She subsequently passed three of her tests before finishing our four-week orientation class, which inspired several other students to take their tests."
A Rio Salado student also won the Student of the Year ELAA (English Language Acquisition for Adults) award.
What is Adult Education?
Each year, Rio Salado's adult education classes help Arizonans:
Earn a high school equivalency diploma through the GED® test or other pathways
Improve English language skills
Gain essential employability skills
Train for an exciting career
Transition to college
Dedicated instructors, success coaches, college and career navigators, tutors, and staff help thousands of new students who enroll each year to reach their goals.
Adult Education and Workforce Development Opportunities
Medical Administrative Assisting - Rio Salado has partnered with Phoenix College to offer students a direct pathway to enroll in Phoenix College's medical assisting program. Students who participate in the GED® Test Prep program at Rio can enroll in Phoenix College's 18-unit Medical Assisting certificate program. Program completion gives students the skills and knowledge for front office work in the medical field. 
Constructional Trades – Partnership with South Mountain Community College (SMCC) where Rio Salado offers GED® test prep courses at SMCC. Students can simultaneously enroll in one of SMCC's Construction Trades Institute (CTI) programs to get training in the carpentry, plumbing or electrical fields. 
Rio Salado College at West-MEC – Locations in Buckeye and North Phoenix offering GED® Test prep classes both day and evening to help students develop the academic skills to obtain a high school equivalency diploma. 
Rio Salado Nanotechnology - Adult education students will have the opportunity to co-enroll in adult education classes (GED® Test Prep or English Language) and earn a certificate in Nanotechnology. With the global chip shortage impacting several key economic areas, including automotive, consumer electronics, and cyber security, U.S. companies are in urgent need of trained workers. "Rio Salado College is training technicians for the semiconductor industry, as well as related micro and nanomanufacturing services," said Dr. Rick Vaughn, Faculty Chair for STEM initiatives. The next cohort starts in October. 
Additional Adult Education Career Training – Rio Salado offers a variety of training opportunities – App Development, Cybersecurity, Entrepreneurial Studies, General Business, Retail, Risk Management and Insurance and more - that are directly aligned to making an impact in the workforce. 
Learn more from Rio Salado's adult education graduates
2022 HSE Commencement speaker Rachel Lopez began in May 2020 at the start of the pandemic and earned her GED® a year later. She recently completed a phlebotomy certificate and is currently enrolled in the Medical Administrative Assisting (MAA) career training program in partnership with Phoenix College. 
2022 HSE graduate Harsha Patel's Rio Salado journey began in 2017 when she began taking English Language Acquisition for Adults (ELAA) classes. She transitioned into the HSE (High School Equivalency) program, and passed her final GED® tests in February. In addition to earning her HSE diploma, Patel passed the pharmacy technician exam and will be able to work in her dream job as a pharmacy technician at Walgreens.
If you're interested in pursuing Adult Ed classes at Rio, talk to our team at (480) 517-8110 or fill out this Request For Information form.
Rio Salado College has offered award-winning adult education services to the community since 1978 and is the largest adult education provider in Arizona. Rio partners with ARIZONA@WORK, other Maricopa Community Colleges, community organizations, and employers to create pathways to college and careers for adult learners in Maricopa County.
For more information on GED®/HSE classes, visit Rio Salado's GED® test preparation page.
Read more about Rio Salado's adult education programs online.