Tuesday, January 17, 2023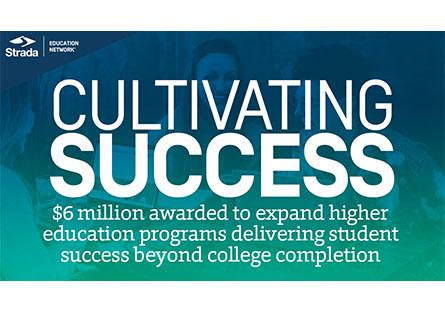 Adult learners who attend Rio Salado can look forward to expanded career opportunities through a $1.5 million grant to the Custom Academic Readiness and Essential Employment Reskilling (CAREER) program.
Strada Education Network's* Beyond Completion Challenge awarded this grant to four institutions across the country that have developed promising programs to support students' goals and ensure durable success after completion of a degree or other credential. 
"These four institutions have already found ways to support the success of their learners beyond completion," said Stephen Moret, Strada Education Network president and CEO. "We are excited to provide this grant so they can reach more learners than ever before and expand to new communities and even other institutions who are joining their efforts."
This award is the second installment of Strada's $10 million Beyond Completion Challenge. This challenge provides funding for institutions of higher education to launch, test, and scale initiatives designed to ensure students are positioned to succeed after graduation. At Rio Salado, this grant will support the expansion of our Custom Academic Readiness and Essential Employment Reskilling (CAREER) program.
CAREER helps adult learners seeking basic literacy, GED® test preparation, workforce preparation and career training to build the academic and employment skills needed to access, persist, and complete college-level coursework and seek fulfilling careers that provide family-sustaining wages. The project will improve equitable access to college and career navigation services for adult learners. 
"Workplace skills and requisite knowledge are changing more rapidly than ever, leading to more adults coming back to college to unlock greater opportunities in their chosen profession," said Rio Salado President Kate Smith. "Rio Salado and community colleges across the country are answering the call. Through this support, our Custom Academic Readiness and Essential Employment Reskilling program will now be able to equip 5,000 adult learners with the tools and resources they need to select and complete valuable certificates, credentials, and degrees, which translate into real- world earnings and strengthen local economies."
Adult education benefits students such as Rachel Lopez, who earned her high school equivalency diploma in Spring 2022. Lopez said earning her HSE diploma through Rio Salado put her on the path to success.
"Earning my GED® has helped me to inspire my children and to motivate them to pursue their dreams," Lopez said. "I always tell my sons not to give up on their goals, and to persevere no matter what roadblocks they face. I tell them that if they work hard, they can accomplish anything."
Learn more about Rio Salado's Adult Education Program online.
The Beyond Completion Challenge has a unique focus on people of color, first-generation students, adult and returning learners, and those who struggle to pay for their education. Rio Salado joins three other colleges and universities in receiving this grant. 
Arizona State University

The University of Texas

The University of Utah
About Rio Salado's Adult Education program
Rio Salado College has offered award-winning adult education services to the community since 1978 and is the largest adult education provider in Arizona. RSC partners with ARIZONA@WORK, other Maricopa Community Colleges, community organizations, and employers to create pathways to college and careers for adult learners in Maricopa County.
*Note: STRADA now goes by STRADA Education Foundation (9/15/2023)