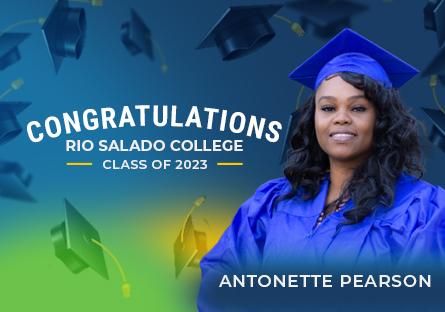 Joining campus organizations helps online students connect and find purpose.
By Mira Radovich, Senior Contributing Writer
Like many before her, Antonette Pearson's path to graduation had its challenges. As a mother and business owner, Pearson did not have the luxury of attending school full-time.
"My journey was not easy, and like most students, I struggled with balancing home life and work life and my classes took a back seat," Pearson said.  
Enter Rio Salado College, where online learning allowed Pearson to fit education into her life at her convenience. 
"After I learned the online platform and got familiarized with the process it was very simple," Pearson said. "I was able to work at my own pace and see my progress. I was also able to communicate with my professors efficiently and effectively."
Even though online classes fit her lifestyle, Pearson wanted to become more active with her community. She discovered Rio Salado's student life and leadership department offered many options to engage with other students and the community. 
"Participating in the National Society of Leadership and Success and the Student Public Policy Forum really inspired me," Pearson said. "They allowed me to be actively involved with real issues in our community."
She also participated in the Campus Election Engagement Project where she helped to advocate for the adoption of Arizona Senate Bill SB1453, allowing community colleges to offer select bachelor's degree programs. 
"Once I got involved with student life activities, I realized I mattered," Pearson said. "My existence, my voice, it all matters, and it can help make a difference."
Pearson's dedication to reaching her goals is evident. Although it was almost 10 years in the making, she recently completed a Certificate in Child and Family Professional Development and an Associate in Applied Science in Early Childhood Education.
"As a business owner and active program director of two childcare facilities, it was very critical to obtain my degree," Pearson said. "This provided me the opportunity to ensure I met all state and local requirements to be a qualified and licensed director."
The first in her family to graduate from high school and now college, Pearson is not done learning.
"Now that the Maricopa Community Colleges offer bachelor's degrees, I plan on pursuing a Bachelor of Arts in Special Education from Rio," Pearson said. "I plan to use it as a tool for hope, change and equity-building between diversified communities and local organizations."
Pearson will celebrate her academic achievements by serving as student marshal at Rio Salado's Commencement Ceremony on Tuesday, May 9, 2023, at Arizona Financial Theater.
"Enrolling at Rio was one of the best academic decisions I've made," Pearson said. "Completing my degree not only provided academic enlightenment, but it also taught me self-discipline, accountability, and how to advocate."
Pearson, who also founded the Diamond Girl Rock Dynasty nonprofit music organization, proudly recommends Rio to others who are looking at their education options. 
"Rio is a family of great educators, staff and students and the possibilities are limitless," Pearson said. "If you want to reach your greatest potential or be the greatest version of yourself, look to obtain your degree at Rio Salado College."
Join us for this year's commencement ceremony, May 9, 2023 at Arizona Financial Theatre in Downtown Phoenix to honor Rio Salado graduates and their accomplishments.
Rio Salado College Commencement 2023
Arizona Financial Theatre
400 West Washington Street
Phoenix, AZ 85003
Tuesday, May 9, 2023
Program begins at 7 p.m. 
Rio Salado Commencement Live Stream
The event will be live streamed beginning 7 p.m. May 9.