Friday, September 8, 2023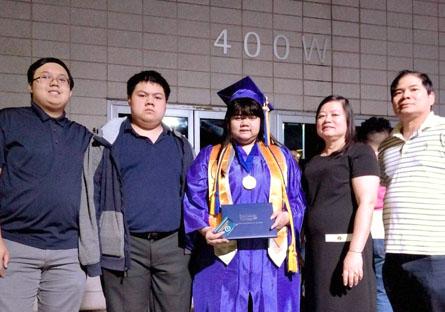 The younger members of the Nguyen family - Richard, Helen and Steven - share a journey of academic achievement and perseverance that started when their mom learned about the opportunities available through dual enrollment.
Kieu Vu, a Vietnamese immigrant, became the guiding force behind her children's educational path while attending Maricopa Community Colleges herself. She discovered the concept of dual enrollment through a counselor's recommendation. 
Recognizing the potential to save money on higher education, Kieu Vu ensured her children took advantage of the chance to earn college credit while taking courses at Tempe's Mountain Pointe High School.
"It's a good idea because the kids can finish early, save their time, save their money," she explained. This belief in the advantages of early college education was a central tenet in the family's academic pursuits.
Richard Nguyen, the elder of the siblings, was the first to earn not only a high school diploma but a college degree from Rio Salado - actually, two - in the same year. 
Graduating from Mountain Pointe in 2019, he embarked on a bachelor's degree in accountancy, which he earned in 2022 after just three years at Arizona State University. Richard quickly secured a job as an accountant at a real estate firm. He recently started a master's degree program, all while working full time.
Helen Nguyen finished high school in May with an associates degree from Rio Salado. She did so while actively involved in a dozen clubs at Mountain Pointe and holding leadership positions in many of them. This month, she begins her path toward a degree at the University of Arizona with plans to become a pharmacist.
Steven Nguyen, a sophomore at Mountain Pointe, completed more than a dozen college credits last year and is attempting about 20 this year through dual enrollment. 
"You need to encourage them to do dual enrollment," Kieu Vu said. "Instead of having just one class, they can do high school and college at the same time. It's a very good way to do it."
The Nguyens didn't just talk the talk – they walked the walk. Helen gives her mom props for pointing them toward the dual enrollment program.
"I just want to emphasize on what our mom did: without her telling us, we wouldn't know and we wouldn't have the opportunity to do these things. We were very new to this experience of high school and college," Helen Nguyen said. Because of it, "Instead of general studies for the first year (at the UA), I'm starting straight off the bat with pharmacist classes."
The message goes beyond the Nguyen family. Kieu Vu shared her children's story with other parents, and Richard and Helen took their dual enrollment knowledge and spread it to peers who also enrolled.
"A bachelor's degree is usually four years, but if you already have your associate degree, you skip two years," Richard said, adding tuition at the university was about $12K when he enrolled. "My family is a big advocate because of the time and money you're saving."