Notice
This article appears for archival purposes. Any events, programs and/or initiatives mentioned may no longer be applicable.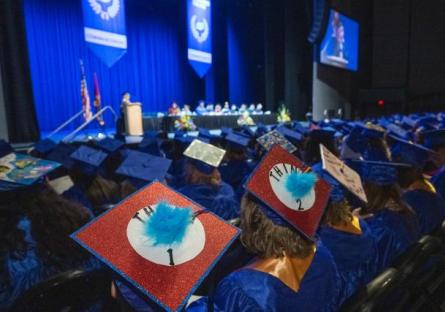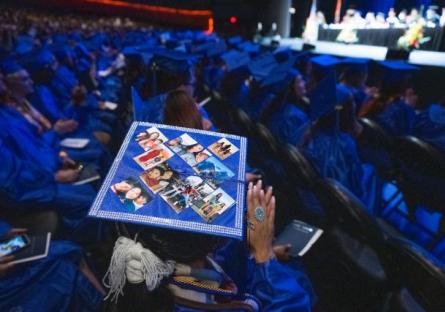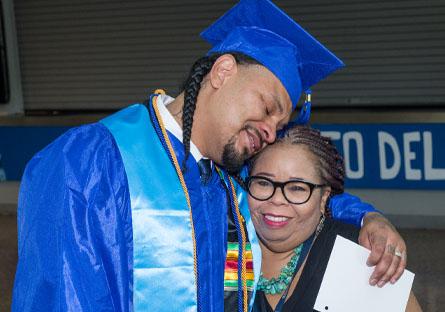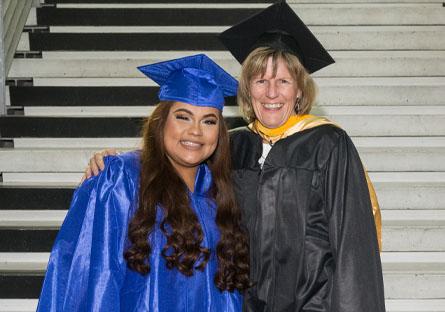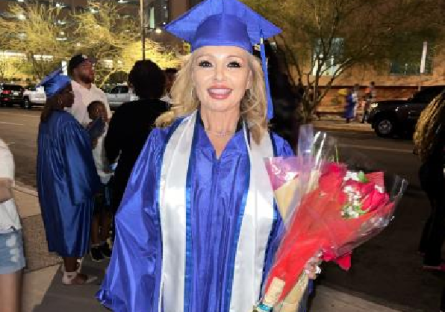 Excitement filled the air as Rio Salado College celebrated its first in-person commencement ceremony in two years on Wednesday, May 4, 2022, at the Arizona Federal Theatre.
A total of 3,548 students graduated this academic year, collectively earning 3,742 degrees, certificates and recognitions of academic achievement.
Several students added their own personality to their graduation looks by donning ethnic stoles over their gowns, while others bedazzled their caps to honor their academic programs, family members, and life journeys.
Among those being recognized:
Tanya Brauer and Veronica Gutierrez, Rio Salado employees who earned their associate degrees;
Victor Franco, a dual enrollment student from Heritage Academy who is completing three associate degrees;
122 seniors from Xavier College Preparatory who participated in college commencement prior to their high school graduation ceremonies;
72 seniors from Tempe Union High School District completing their associate degrees, including 32 earning two degrees; 
Neveaeh Ulibarri, a dual enrollment student from Corona High School in Tempe, who is completing three associate degrees; and
36 graduates receiving educational degrees or certificates.
During her address to the graduates, President Kate Smith shared the resiliency of the Class of 2022 who completed their degrees and certificates during two years of "extraordinary times."
"We recognize the personal challenges and hardships many of you have faced — and how they have been compounded by a global pandemic and resulting disparities and divisions," she said. "Yet, you have chosen, every day, to persevere, to believe in yourself, and work toward a better future. We are inspired by you."
Maricopa Community College District leadership also joined in the celebration.
"I could not be more proud," said Dr. Steven Gonzales, Interim Chancellor of the Maricopa Community Colleges. "Graduation offers an opportunity to reflect on our success as an institution and celebrate the academic excellence of this year's graduates. You have displayed incredible discipline, commitment and determination in completing your academic goals."
He invited graduates to join the Rio Salado Alumni Association made up of more than 99,000 graduates.
Dr. Linda Thor, Governing Board Member for the Maricopa Community Colleges and President Emeritus of Rio Salado College, congratulated the graduates and wished them well in their future endeavors.
"Completing your education at Rio Salado College marks a special time in your life when you can feel proud of your accomplishment and optimistic of the opportunities that await," she said.
Student speaker Cordero Holmes shared his journey through Rio Salado, his belief in the power of education to not only impact an individual and a community, but to reconcile and build nations. He ended his address with hopes for the future for all graduates.
"As you all go out in the world and continue on the path that you are creating, remember, we are not here for earthly gain only, but are placed here to be a light unto the world so that all may be shined upon and come into this light," he said.
Congratulations to all the graduates and program completers. Continue to watch Rio Salado's social media channels and this blog for future inspiring stories from the Class of 2022, including these:
Related links