Thursday, October 20, 2022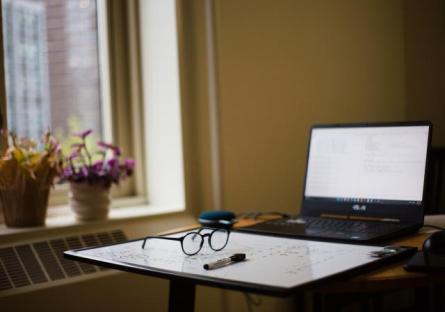 There are scholarships out there that could help you pay for college. The burning question is HOW to find them. There is a lot of information out there and trying to sort through it all can be overwhelming. If you're on the hunt for scholarships, consider narrowing your search through these avenues.
Advisors
You don't have to go through the process of finding and applying for scholarships alone. If you're in high school there are counselors at your school that can help you find scholarship opportunities. Rio Salado's Financial Aid office can help you navigate the many resources available to find and apply for scholarships.
Employer
Some businesses offer scholarships, paid professional development training, and other forms of assistance for employees who want to further their education. If your parents or spouse work for a company offering these benefits, you could possibly be eligible for them as well. It never hurts to inquire about employer-backed scholarships.
U.S. Department of Labor
The United States Department of Labor offers a free search tool for finding scholarships. The Department of Labor's Scholarship Finder can help you search by location, level of study (with scholarships ranging from high school level to graduate degrees and professional development), and award types. You can also find fellowships, grants, and prizes through the Department of Labor's Scholarship Finder.
State Grant Agency
Your state's Department of Education will have a grant agency that can help connect you with financial aid resources. It also helps to look for scholarship opportunities at the city level. Your city government may offer financial assistance options that you're not aware of. Do searches for the name of your city plus "scholarships/grants" and any of these terms to help find what's out there:
Arts 
Business and Workforce Development 
Community Development 
Human and Social Services 
Housing 
Public Safety 
Public Transit
Sometimes city governments can't directly offer funding for post-secondary education but that doesn't mean that they can't help you. The city may partner with non-profit organizations to fund these kinds of opportunities, so it's always worth taking a look to see what comes up.
Professional Associations
Some professional groups, networking organizations, and trade associations offer scholarships for people who are either actively working in their field or looking to enter it in the first place. One example of this is Rio Salado student Brenda Perez-Palacious, who received a 2022 TACTYC Scholarships from Teachers of Accounting at Two Years Colleges, an organization dedicated to advancing the field of accounting education.
Some labor unions also offer scholarship programs that are open to both union members and to their immediate family, so if your parents are unionized (depending on the industry) you may be eligible to apply for some form of assistance.
Student Life
Participating in Honors, PTK, National Society of Leadership and Success, and other student groups could make you eligible for scholarships and grants offered by those organizations. There may also be student networking groups and student professional associations related to an industry you're trying to get a foot in the door in that could either offer scholarships of their own or connect you with industry-specific resources that do offer them. Student groups who do civic engagement work could also connect you with groups and organizations in your community that may be able to help you fund your education.
Another invaluable student life reference can be your school's alumni association. Both current students and alumni can benefit from getting in touch with alumni: the former can get mentoring and learn about scholarship opportunities that alums used in their time at school, while alumni looking to further their education to a higher level of learning may be able to use the association to access resources and make connections that can help them find a scholarship that can help them.  
Ethnicity-Based Organizations
Depending on your ancestry, you may be eligible for scholarship opportunities offered by ethnicity-based organizations. Female-identifying students and LGBTQA+ students may also find organizations with for scholarships available to them.
Religious Organizations
If you are a member of an organized faith-based group, it's worth investigating if they offer any scholarship or grants. While some scholarships may require you to attend a faith-based school, not all faith-based scholarships have that as a requirement for eligibility.
Library
Print isn't dead! While there are many online resources available, your local library may also have scholarship listing books available (just check the date to make sure they aren't more than a year old). Libraries also have bulletin boards where you may find info about local groups offering scholarships. Your state library association may also offer scholarships or offer its own resources for finding them.
Calendar
Almost as important as finding scholarships is notating their deadlines. Keep a calendar or planner while you're searching for scholarships. Make sure to write down the deadlines for every scholarship you're interested in; it also helps to write the date you applied to them on your calendar once you've sent them in (if you need to go digging around in your inbox for info about this scholarship later, having this date on hand can save you some trouble).
Get Your Papers In Order
Another step that will help you save time and spare you headaches is to have all your application materials ready to go. While not all applications share the same requirements, there are certain items that come up frequently that are good to have on-hand as you hunt for scholarships:
Your FAFSA information
A letter of recommendation from a teacher, counselor, or someone else who can attest to your academic work
A professional picture of yourself
Your latest school transcript
Watch Out For Scams
While most scholarship programs are on the levels there are fraudulent scholarship search sites and fake programs out there. Keep an eye out for these warning signs:
The search site charges a fee for use
You have to pay to apply to the scholarship
Requests for unusual personal information (Social Security number, bank/credit card numbers, making you fill out a 1099 or other tax form)
You shouldn't have to pay to apply for a scholarship nor should you disclose your SSN unless you're communicating with a verified federal/state agency (and do your due diligence and double-check, because scammers can and will try to pass themselves off as government agencies). Always check to make sure that any emails and phone numbers used to contact you are valid and listed on the appropriate sites, and check for spelling errors and other tell-tale signs of a scam.
Searching for scholarships does not need to end as you're nearing completion of your associate's degree. Some scholarships are available to students transferring to four-year institutions to complete a bachelor's degree. The All-Arizona Academic Team Scholarship provides tuition to one of Arizona's four-year institutions (ASU, NAU, UA). Application deadline is Nov. 7, 2022. Contact Rio's PTK chapter for information: PTK@riosalado.edu.
Article by Austin Brietta
More on Scholarships: