Monday, November 28, 2022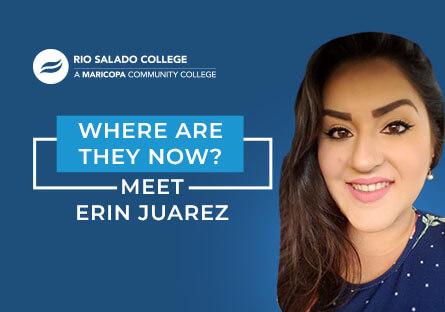 Teaching Certificate Leads Grad to Awarding Career
By Mira Radovich, Senior Contributing Writer
In one year, Erin Juarez went from college graduate to teacher to being recognized for her professional accomplishments.
Juarez, who is originally from Los Angeles, received her Special Education Certificate, Grades K-12 Mild-Moderate Disabilities, from Rio Salado College in December 2021.
"I chose to attend Rio Salado College because it offered a post baccalaureate teacher certification program that was reasonably priced and gave me the freedom to live my life," Juarez said. 
Specifically, Juarez enjoyed the convenience and flexibility of taking online classes.
"Being able to learn from home was very beneficial," Juarez said. "It gave me the opportunity to hold down a job, take care of my family, and reduce costs for fuel. Learning from home provided me the opportunity to learn when I had the time to learn."
Juarez was hired as a special education teacher at Sierra School at Liberty in Buckeye, Arizona. The school partners with Liberty Elementary School District, and services students with mild to moderate learning needs. 
"One of my personal philosophies of learning and education is that each child is an individual who can learn no matter what," Juarez said. "I focus on each individual's strengths, needs, skills, and abilities when determining how I will provide instruction."
Juarez's dedication and approach to student success earned her professional recognition. She was recently named a regional winner in Specialized Education Services, Inc.'s (SESI) nationwide Teacher of the Year program.
SESI's Teacher of the Year program honors outstanding, innovative educators who exemplify high-quality, evidence-based instruction while recognizing the importance of equitable education for all students.
"I hope to continue to live up to this amazing award and share my knowledge with peers and help them become the best teacher they can be," Juarez said.
As a teacher herself, Juarez appreciated the quality of instruction she received from Rio Salado's Educator Preparation program.
"Rio's teachers are very friendly, helpful, and encouraging," Juarez said. "They assisted with knowing what was expected and when work was due. They also did a great job getting back to me when I had additional questions."
For other students considering online learning, Juarez says the key to success is staying on top of classes and assignments.
"My biggest tip is to not procrastinate," Juarez said. "Make sure to give yourself a space where you have limited distractions and make a schedule of when you plan to study and complete homework."
Not surprisingly, Juarez's favorite Rio Salado class involved working with others.
"My favorite class at Rio was the teacher mentorship class," Juarez said. "The class allowed me to interact with my peers going through the same classes, experiencing similar struggles and being able to collaborate with them."
Juarez sees a long career ahead devoted to students, learning and teaching.
"My aspirations are to continue to learn different techniques to motivate, inspire, and differentiate the lessons I provide to my students, so that I can continue to see progress being made."