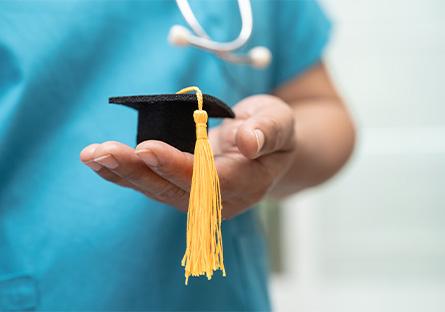 By Mira Radovich, Senior Contributing Writer
As a college student, Geri Bentley is the very definition of ambitious.
"I started taking classes at Chandler Gilbert Community College when I was 15 years old, with the intent to pursue nursing," Bentley said. "This required me to make a lot of sacrifices and led me to become dedicated to what I do."
Now 19, Bentley has completed a licensed practical nursing program, and needs to take a few more credits before she can transfer into a bachelor's degree program.
For this she turned to Rio Salado College.
"Rio's online classes have provided a convenient and quality education," Bentley said. "I have been able to continue working full-time and pursuing other interests and volunteer work while completing credits thanks to the flexibility of online courses."
Finishing her classes in a timely manner is important to Bentley as she financially supports herself.
"I manage my money with a strict budget," Bentley said. "My financial situation includes paying for car, phone, insurance, housing, gas, food, and school expenses. I make sacrifices to pay for what is needed and limit what I spend on nonessential items."
Bentley received a Spring 2023 Hazel Davis Literacy Legacy Scholarship from the Maricopa Community Colleges Foundation to help cover her tuition expenses.
"I am grateful for the opportunity to receive a scholarship," Bentley said. "It is letting me focus on getting the best grades possible instead of stressing about finances."
The Hazel Davis Literacy Legacy Scholarship is one of several scholarships available specifically to Rio Salado students. To Qualify, students must maintain a minimum GPA of 3.25 and demonstrate financial need.
After serving a mission for her church beginning in May, Bentley plans on transferring to either Weber State University or Southern Utah University in Fall 2024 to complete her bachelor's degree in nursing.
"Once I have obtained my bachelor's degree, I plan to work in a pediatric intensive care unit for 3-5 years and then apply to be a life-flight nurse," Bentley said. "I believe that the more I educate myself, the more I will be able to help those around me."
Bentley ultimately hopes to open a clinic that offers affordable medical aid to underprivileged families and communities. 
This desire to give back is evident in her personal life.
"I am actively involved in my church, and also enjoy spending time volunteering," Bentley said. "One of my favorite experiences has been serving as a volunteer English teacher in the Dominican Republic. I am dedicated to helping others and making a difference in people's lives."
The Maricopa Community Colleges have made it easy to apply for hundreds of 2023-24 student scholarships with one application. Don't wait – the application deadline is April 30, 2023.  Apply Now!