Wednesday, November 9, 2022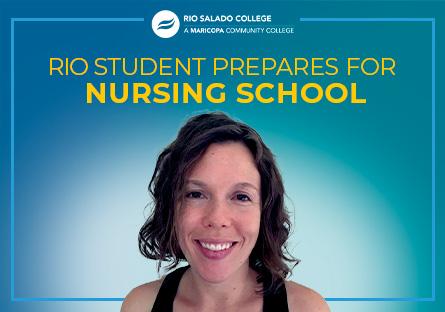 By Mira Radovich, Senior Contributing Writer
Even when a community college doesn't offer your program of choice, it can still help you reach your career goals.
Through classes, certificates and degrees and transfer opportunities, community colleges provide affordable education pathways that can lead students to a better future.
Just ask Alysa Call.
The Crescendo Music School teacher and aspiring nurse turned to Rio Salado College to take nine out of the 10 pre-requisite nursing courses required for her bachelor's degree program.
"I chose Rio Salado for flexibility and affordability," Call said. "I had heard about Rio being the best in online education. The online format allowed me to keep working and do my classwork before or after my work shifts."
An avid piano player and instructor, Call chose nursing when she was looking for a career change.
"I am pursuing nursing because I really value focusing on a person and giving them my best during the time we have together," she said. "Nursing requires great cognitive and emotional skills and I find it to be challenging and impactful work."
Call especially enjoyed the convenience of learning at home.
"For me, learning at home was beneficial because of the flexibility and convenience," Call said.
"Every Sunday, I made a weekly checklist that mapped out my study sessions and the dates that my assignments were due."
When she found she needed more study time, Call embraced the Pomodoro Technique, a time management system that encourages people to work with the time they have available.
"Pomodoro sessions were crucial for me because I got to take a 5-minute break after 25 minutes of focusing," Call said.
She also found a study routine that worked for her physical home environment.
"I tried to study early in the morning or in the evening when the house was quiet," Call said. "When this wasn't possible, noise cancellation headphones or a sound machine really helped me concentrate when my home environment was chaotic."
Thanks to her Rio Salado courses, Call was well prepared for her TEAS (nursing school admissions) exam. She was accepted into Arizona State University's highly-competitive Edson College of Nursing, and is on schedule to begin an accelerated bachelor's degree program in January.
"Taking the nursing prerequisite courses with Rio allowed me to keep my current work schedule so that I will only have to take off work for one year while completing my bachelor's degree," Call said.
She is also in the process of earning certification as a healthcare interpreter.
"I took Spanish Medical Interpretation 1 and 2 through Rio that gave me the foundation to pursue CCHI (Certification Commission for Healthcare Interpreters) certification," Call said. "These were great classes because the highly qualified professor gave constructive feedback and offered a lot of support."
As for future goals, Call has not decided on a nursing specialty yet, but knows her CCHI certification will come into play.
"I want to work with the Latinx population and I want to be able to do my own interpretation work as a nurse to communicate directly with Spanish speaking clients," Call said.
For others considering a career in healthcare, Call advises starting their education at Rio Salado.
"I recommend Rio to future students because it is affordable and gives the flexibility to fit school into a busy schedule," Call said. "Rio's well-designed courses helped me learn all of the necessary medical fundamentals, and the online platform is reliable and user-friendly."
RELATED LINKS