Wednesday, March 22, 2023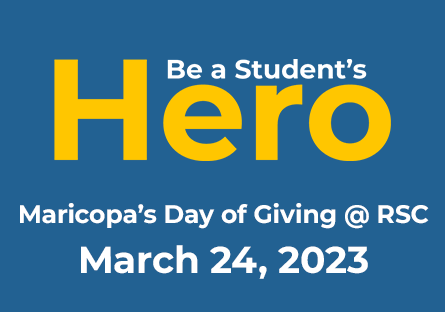 Being a hero doesn't require a cape. Sometimes, it just means making a difference in someone else's life. 
This year's Be a Student's Hero fundraising campaign aims to provide needed funds to students through two Rio Salado programs: The Melody Layne Miller Memorial Scholarship fund and the Student Life fund.
Melody Layne Miller Memorial Scholarship
The scholarship was established for students in need and supports two interests that Melody felt passionate about: high school students and future educators. Potential scholarship recipients would be those in our dual enrollment or educator prep programs. 
Rio Salado is one of the largest providers of dual enrollment programs in Arizona. Through their efforts, students who take advantage of dual enrollment can earn both high school and college credit, sometimes completing an associates degree alongside their high school diploma. Taylor Garman was one of those students: she earned enough credits to enter college as a junior at a California university and is now working on her master's degree in Ireland. Learn about this life changing program through this recent story.
Rio Salado College Student Life Fund
The purpose of this fund is to support student programs, including projects, activities, marketing of student organizations, stipends, student participation fees, supplies, books, or initiatives that impact the college and/or its students.
Taking part in student activities contributes to student success on many levels, from gaining leadership skills to finding a sense of belonging among peers. One student organization for Rio Salado students is Phi Theta Kappa, an honor and service club open to students with strong academic standing. The organization puts on collegewide events, including a webinar on human trafficking, necessities drives for local communities and, later this spring, a study session for all students. Learn more about PTK's impact from alumni Carolyn Shack.
Please help Rio continue funding of these efforts with a donation this week or on Friday, March 24, during the Day of Giving.
Donations can be made online! Just designate Rio Salado College for your donation and select one of the funds highlighted here.
Thank you for supporting Rio Salado students.