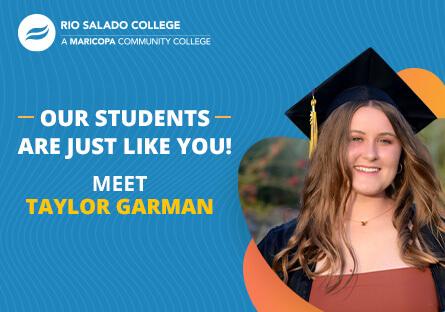 By Mira Radovich, Senior Contributing Writer
In the span of two years, Taylor Garman went from high school senior in Phoenix to university graduate in California to master's degree program seeker in Ireland.
How was this possible? Dual enrollment credits from Rio Salado College!
As a high school student at Xavier College Preparatory, Garman learned about dual enrollment, where high school students can earn college credit for classes they take in high school.
"Initially, I decided to take dual enrollment simply in hopes that my university of choice would take my credits," Garman said. "As I began when I was only a freshman, I didn't know where I would be attending university, so I took a chance and enrolled just in case."
In 2020, Garman finished high school with an added bonus.
"At my graduation ceremony, I was not only awarded my high school diploma, but also my Associate of Arts degree from Rio Salado College thanks to the dual enrollment program," she said.
That fall Garman enrolled at California Lutheran University in Thousand Oaks to pursue a political science degree.
Halfway through her first semester, Garman was shocked to learn she was not a freshman.
"I was living in the freshman dorms, and was enrolled in all introductory classes when I was informed of my junior-standing status," Garman said. "My university had accepted my entire AA degree — making me a junior standing, not a freshman."
Rio Salado College has partnerships with 40+ in-state and national universities to accept transfer credits, with some accepting associate degree credits as a block. 
Even outside the partnerships, Rio Salado courses may transfer. Rio Salado is a regionally accredited institution and most coursework completed at a regionally accredited institution is transferable to another regionally accredited institution. Rio Salado recommends contacting your future university to verify course transfer.
"I was definitely surprised, as I was not aware that my undergraduate university, which was an out-of-state private university, would take my credits," Garman said. 
Bolstered by this advantage, Garman took a few extra classes over semester breaks during the next two years to complete her undergraduate degree. 
She graduated magna cum laude with a bachelor's degree in political science in May 2022 and decided to look abroad to continue her education.
Last fall Garman began a master's degree program in Intellectual Property and Information Technology Law at Trinity College in Dublin, Ireland. 
"My master's is going well and my classes are very interesting," Garman said. "I would say the biggest difference between the education system in the U.S. and Ireland is the grading system."
She explained that at Trinity College, the grading scale operates on a class system. A First-Class grade consists of a 70-100% mark. A Second-Class Honors, First Division grade consists of a 60-69%, and so on. 
"While it seems the grading system would be more lenient based on this system, it really is not," Garman said. "It's considered an 'esteemed mark' to receive a 70% (which, in my American studies, would be a C-equivalent). Therefore, the threshold for success is far higher and more difficult to achieve."
When not engrossed in her Trinity College studies, Garman is taking advantage of her proximity to Europe to explore other countries.
"So far I have traveled to Scotland, England, Germany and Spain, and will soon be visiting Austria, Denmark, and Sweden," Garman said. "My favorite so far has been Scotland. I have a friend that goes to university there. When I visited, we rented a car and drove up and down the Scottish coast for a weekend, which was an unforgettable experience."
Garman will return Stateside this summer when her program concludes. She plans on applying to law schools to pursue her dream of becoming an entertainment law attorney.
"None of my educational feats and journey would have been possible without my education at Xavier and Rio Salado College," Garman said. 
"I've been able to enjoy a multitude of opportunities and life experiences thanks to Rio. I highly encourage high school students to pursue dual enrolling with Rio Salado. Let my story be a testament to its worth and value."

RELATED LINKS