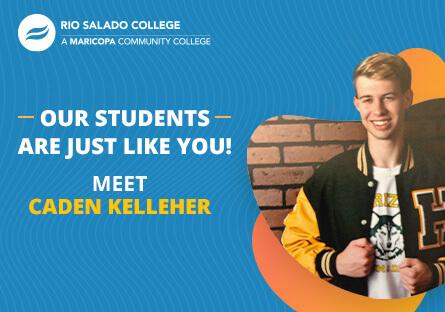 By Mira Radovich, Senior Contributing Writer
Horizon High School senior Caden Kelleher graduates this month with not only his high school diploma, but two associate degrees, as well!
Kelleher enrolled in Rio Salado College's rapidly growing dual enrollment program where high school students earn college credit for certain classes they take in high school.
"Initially, my mom made the suggestion to take dual classes and get college core curriculum credits completed to move into focus areas sooner," Kelleher said. "We researched the options and chose classes that both met the degree requirements and whenever possible were of interest."
Kelleher is receiving an associate of arts degree and an associate in general studies degree from Rio Salado. He will parlay his academic success into a military career when he joins the U.S. Navy in February.
"I have enlisted in the Navy into Special Warfare to become an Air Rescue Swimmer," Kelleher said. "Having my associate degrees offers additional promotion opportunities."
Dual Enrollment at Rio Salado
Giving students a head start on their college and career goals is the hallmark of Rio Salado dual enrollment program.
In fact, the program has seen record enrollments for the past several years.
In the fall of 2020, enrollment was at 7,443. In the fall of 2021, enrollment grew to 7,813. This past fall, 2022, enrollment surpassed 9,000 students for the first time with 9,082 high school students taking part. 
"Dual courses held at participating high schools, taught by qualified teachers using college-level curriculum, offer tremendous benefits," said EJ Anderson, director of dual enrollment at Rio Salado College. "Research has shown students who participate in dual enrollment are more likely to go to college and do better salary wise after graduation. We are thrilled so many students are able to participate in dual enrollment courses."
The benefits of taking dual enrollment classes are more than just a head start on college.
Students save time and money because tuition at a community college is less expensive than a four-year institution. 
An article from the U.S. Department of Education includes research that shows students who participate in dual enrollment opportunities are more likely to go to college, stay in college, have higher GPAs and finish college. 
In addition, a study in Colorado examined workforce earnings of students who took part in dual enrollment and found they are more likely to have higher workforce earnings after five years than students who do not participate in dual enrollment.
Learn more about Rio Salado College's early college options including dual and concurrent enrollment here.