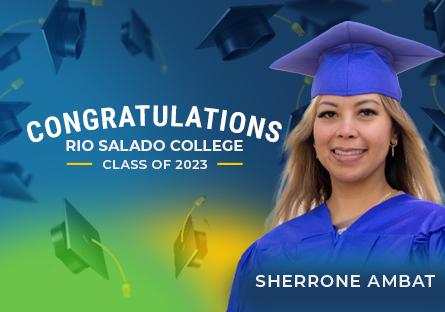 "Life goes too fast and the next thing you know, you're a grandma!"
By Mira Radovich, Senior Contributing Writer
If life is a jigsaw puzzle, Sherrone Ambat's was missing a few pieces. To help complete her puzzle, she turned to Rio Salado College.
"I got married when I was 21, and my husband and I had to put education aside while we were hustling," Ambat said. "We were working two jobs to be able to purchase our first home."
The couple soon started a family, and Ambat, who is originally from the Philippines, found herself working full-time. But something was missing.
"I was able to go back to school after we reached our goal of home ownership." Ambat said. "I started taking online classes, only one or two at a time, but somehow I kept on moving despite what life threw at us. I had a personal goal to earn a degree and knew I'd get to it someday."
Ambat chose to pursue her education online.
"I chose Rio because it is a reputable school, affordable, and was convenient for me," Ambat said. "Taking online classes allowed me to set my hours while working a full-time job. It really fit my lifestyle."
One of Ambat's most inspiring Rio classes was (ironically) math.
"Math was my least favorite subject," Ambat said. "However, taking it online required me to study harder on my own and challenged me to solve problems."
Ambat found that learning from home also required self-motivation and discipline.
"My number one tip for students learning at home is to prioritize, and make sure you have a daily set time for learning and studies," Ambat said. 
She highly recommends Rio Salado to students considering online learning.
"It's a fun online college that will help you become fully independent with the help of friendly staff, counselors, and instructors," she said.
In addition to the support she received from Rio, Ambat also credits her family for helping her reach the education finish line.
"There was one last class I had been procrastinating on, and as soon as my 20-year-old told me that I was going to be a grandma, I knew I had to get it done," Ambat said. "That's a good life lesson for everyone - don't wait because life goes too fast and the next thing you know, you're a grandma!"
Ambat recently completed her associate in arts degree and celebrated by attending the college's commencement ceremony in May.
"Having this degree with Rio Salado was the last couple pieces of my life puzzle," she said. "I see myself transferring to Arizona State University to earn a bachelor's degree in sociology, to hopefully seal the last piece of my self-goal."
READ MORE