Thursday, January 5, 2023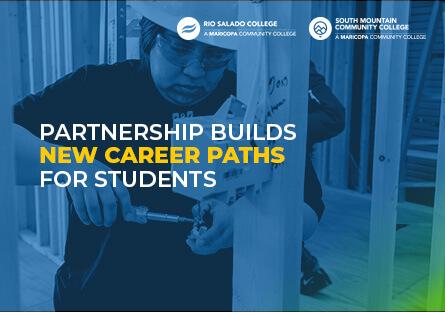 Working with your hands doesn't just offer you the satisfaction of doing a job well-done; you're helping to make the world a better place for others. In the words of Nelson Mandela: "It is in your hands to create a better world for all who live in it." Doing work in the construction trades helps create shelters for others, clean bathrooms, and access to essential services for living and working. If you're interested in learning more about doing carpentry, plumbing, or electrical work, Rio Salado College has a new learning pathway that can help you develop those skills.
Rio Salado now has a partnership with South Mountain Community College that provides students with the opportunity to both take high school equivalency or English as a second language courses and enroll in SMCC's Construction Trades Institute (CTI) programs. Held onsite at SMCC, this enhanced opportunity gives students the option to finish out their adult education with a certificate and training to prepare them for an in-demand career in the construction trades.
What You Can Learn At CTI
With the population in Phoenix expected to double by 2030, demand for construction will be high. SMCC's CTI programs help employers meet this need by providing rapid and professional learning in carpentry, plumbing, and electrical work. The CTI program certificate can be earned in one semester, and offers hands-on experience, hybrid classes, access to a dedicated academic advisor, and a guaranteed job interview with local industry partners after completing the program. The CTI's community partners help guide the curriculum, so students will  be learning skills that are highly sought after in the industry.
CTI's carpentry, electrical, and plumbing programs will teaches:
Safety 

Power tool basics    

Calculations and blueprint reading   

Pipes, fittings and fixtures   

Distribution and disposal systems 
Is Construction A Growing Industry?
Studies conducted by the City of Phoenix have found that the demand for construction jobs in Maricopa County alone is well over the national average. The Department of Labor anticipates there will be a 2.7% annual job growth rate in the construction trades in Arizona. As it currently stands, there are not enough carpenters, plumbers, or electricians trained to meet this steadily growing need for skilled labor. The Greater Phoenix Chamber Foundation has also done studies that find there's a strong demand for women workers in the construction trades.
What Does The Adult Education Test Prep Program offer?
As part of the test prep program, students have access to a dedicated staff that can help them enroll in the program and offer support throughout their educational journey. They'll take test prep courses twice a week, three hours per day, at the SMCC campus. If they choose to take part in the CTI program as well, they will be on campus one day per week. Scholarships are available for students to help pay for the CTI program.
Program cohorts start every seven weeks. For more information or to enroll in the program, please call 480-517-8181.
Article by Austin Brietta
Interested in learning more about Rio Salado's educational partnerships?