Tuesday, November 29, 2022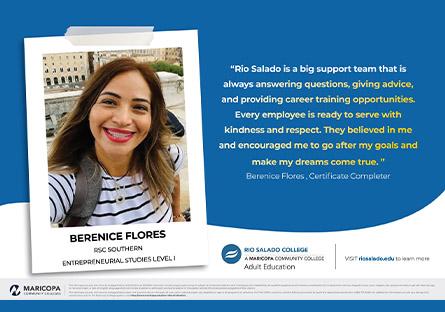 Each November, the United States celebrates National Entrepreneurship Month by recognizing the doers, dreamers and job creators who fuel our economy. Rio Salado College proudly supports the next generation of business leaders by providing an educational foundation for budding entrepreneurs to realize their business dreams.
Pathway Program for Adult Education Students
Students enrolled in GED® test preparation and English language classes also have the opportunity to engage in workforce preparation, employment skills training, and industry-specific training courses, at no additional cost, in four categories, one of which is Business, Entrepreneurialism, and Management. 
The 10-credit Certificate of Completion in Entrepreneurial Studies Level I program includes four classes that are designed to provide students with an introduction to business start-ups and the entrepreneurial process. Students also learn how to create a preliminary business plan.
Rio Salado graduate Berenice Flores recently completed the Level I certificate and was highly satisfied with her college experience.
"Rio Salado offered a big support team who are always answering questions, giving advice and providing career training opportunities," Flores said. "They believed in me and encouraged me to go after my goals and make my dreams come true."
Each class is approximately 10 weeks long. Students can expect to spend 4-6 hours per week on class instruction and assignments. 
In addition to instruction from top-notch faculty, students have access to tutoring and advising services, as well as additional support from Rio's Adult Education department.
Successful completion of the certificate results in 10 college credits that can be applied toward an associate degree.
If you are interested in the Entrepreneurial Studies pathway program, contact Rio Salado's Adult Education department at 480-517-8110 or gedinfo@riosalado.edu. You can also find more information on our website.
There are also scholarship funds available for the program. If interested, please contact Accounting and Small Business Faculty Chair Lily Davidov at lily.davidov@riosalado.edu.
Entrepreneurship Days at Rio Salado Dec. 6
Are you a visionary and a hard worker interested in starting a small business? Join us for a Maricopa Entrepreneur Days event at the Rio Salado College Conference Center on Tuesday, Dec. 6, 2022. 
You will learn about scholarships for entrepreneurs and small business owners that can be used for entrepreneurial studies or small business management courses at the Maricopa Community Colleges. 
There are two session times: 12:30 p.m. and 5:30 p.m. A light lunch or dinner will be served. Each event will last 2.5 hours. Session agenda as follows:
Grant Team: Welcome

Foundation: Scholarships/application workshop

Wells Fargo: Managing business credit

SBDC: Connecting the classroom to the business community

Rio Salado College presentation

Q&A
Register for the Entrepreneur Days Event here.
Online Entrepreneurial Studies Certificates
Maybe you've felt the urge to start a business your whole life. Or maybe you decided to be your own boss just recently. 
Either way, if you have the spirit of entrepreneurship, consider enrolling in Rio Salado College's Entrepreneurial Studies program to get started. The two certificates, level 1 and level 2, will equip you with the skills necessary to run a successful small business. 
You will learn how to create a business plan, research new venture legal issues, make financial projections, and determine business feasibility. You can also continue your education by applying the credits you earn toward an associate degree program. See all of the business degree programs available at Rio Salado College.