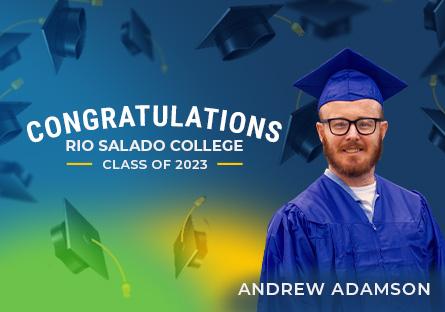 Andrew Adamson hopes his journey from inmate to college graduate will help inspire others struggling with addiction.
By Mira Radovich, Senior Contributing Writer
While incarcerated, Andrew Adamson didn't have many choices when it came to pursuing an education. He was, however, grateful that he had an option at all.
"I was serving a five-year sentence in the Arizona Department of Corrections when I found out about Rio Salado's re-entry classes," Adamson said. 
Rio Salado's Incarcerated Re-entry program currently offers distance learning classes in a print-based correspondence format for eligible incarcerated students.
Adamson persevered with the process of receiving and sending course materials and assignments through the mail, earning two certificates in addictions and substance use disorders.
"The reason I chose this path of study was because I am a recovering addict with over six years of sobriety," Adamson said. "So, when I found out about the opportunity to pursue a degree in addictions counseling, it immediately caught my interest."
Upon his release, Adamson, who is originally from Colorado, decided to continue his Rio journey and enrolled in online classes. 
"I like online learning because it gives me a chance to make my own schedule and pace," Adamson said. "However, it can also be easy to let that schedule get away from you. I would advise future students to manage their time wisely."
He also advises students interested in online classes to consider enrolling at Rio Salado.
"I would recommend Rio because not only is it affordable, but also because the teachers take time to help students understand what they are learning."
Adamson has recently completed his coursework to earn an Associate in Applied Science in Addictions and Substance Use Disorders. He celebrated his achievement during last week's 2023 Commencement Ceremonies. Members of the Class of 2023 earned more than 3,900 credentials according to the most recent data available, including 600-plus associate degrees and 3,000-plus certificates of completion.
"Getting my degree was one of the best decisions I have ever made for myself," Adamson said. "I never thought I would ever go back to school, let alone get a degree in something that I love doing."
Adamson currently works as a client liaison for a local sober living recovery center, a job he credits his education for helping him find. 
"My degree helped me get a job in the recovery and behavior health field," Adamson said. "I would have to say that all of the Addictions classes I took at Rio taught me something that I can carry with me in my career."
Adamson plans to continue his learning by transferring his credits to an Arizona university to pursue a bachelor's degree in addictions counseling. 
"I would like to have a career in substance abuse counseling because I have had my own struggles with addiction and mental health throughout my lifetime," Adamson said. "That is why I am so passionate about this field."
Re-watch the 2023 Commencement Ceremonies on the Rio Salado YouTube channel.
Did you decorate your cap for graduation? Send us your photo!