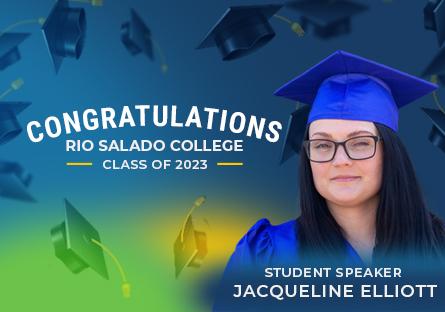 Commencement speaker's life journey sees addiction turn to education, affirmation and graduation.
By Mira Radovich, Senior Contributing Writer
Your life can change dramatically in a day, week, or year. For Jacqueline Elliott, the last few years have taken her on a journey from addiction and depression to purpose, motherhood and accomplishment.
"My life has been personally impacted by addiction in many ways," Elliott said. "When I started at Rio Salado, I was a single mom to a 4-year-old boy, coming back into sobriety after a dark time of depression and drinking, having just lost my mother to her battle with cirrhosis of the liver."
Adding to that, the Covid-19 pandemic wreaked havoc on the world, adding to Elliott's vulnerable state.
"I knew I wanted to change my life and I knew I wanted to help other people like me, and like my mom," Elliott said. 
She turned to Rio Salado where she could take classes on her schedule – something the full-time working mom required.
"I chose Rio because I needed my courses to be all online," Elliott said. "As a working parent, attending classes on a college campus was out of the question. Rio was the difference between me being able to go to school or not."
Elliott found herself thriving in the online environment.
"I personally enjoyed it a lot," Elliott said. "I was in the comfort of my own home and could work on school whenever I had the opportunity. But taking classes online definitely requires some motivation and discipline. You really have to want it."
Rio Salado College's 24/7 online access allows parenting students like Elliot to thrive while maintaining the responsibilities of childcare and work.
"Jacqueline's story inspires us to continue our mission to reach students where they are at and provide opportunities to achieve their goals," said Dr. Trish Hernandez, faculty chair of Addiction Studies and Behavioral Health Sciences at Rio Salado. "Jacqueline shows that with a plan and a dream, a college degree is possible for today's adult learners."
In addition to "wanting it," Elliott offered a few other helpful tips for those considering online learning.
"Don't wait until the last minute and try to do all your homework in one day," Elliott said. "Use your advisor, and any other guidance offered to you. My advisor came up with a game plan that mapped out my degree plan efficiently."
Elliott recently completed her Associate of Applied Science in Addictions and Substance Use Disorders, finishing with an impressive 4.0 GPA.
"I am using this degree as a stepping stone to becoming an addiction counselor," Elliott said. "I decided that if I went back to school, I wanted to pursue a career that had meaning to me."
Elliott transferred her credits and is now enrolled in a bachelor's degree program at Ottawa University, although she took a short break this spring to welcome a new family member.
"I took this term off because while in my last year at Rio Salado, I found out I was having a baby girl," Elliott said. "I submitted my final assignments on March 2nd, and on March 3rd I delivered my daughter."
Now married and with family intact, Elliott is focused on her future.
"Rio Salado was just the beginning," she said. "My goal is to take my education further and earn a master's degree as I embark on my journey into the counseling career field."
Elliott will share her story as the student speaker at Rio Salado's Commencement Ceremony on May 9, 2023.
"Seeing my accomplishments has surpassed my own expectations and inspired me beyond belief." Elliott said. "My son inspires me every day, and I can't wait for him to see me graduate, along with my husband and baby girl."
Join us for this year's commencement ceremony, May 9, 2023 at Arizona Financial Theatre in Downtown Phoenix to honor Rio Salado graduates and their accomplishments.
Rio Salado College Commencement 2023
Arizona Financial Theatre
400 West Washington Street
Phoenix, AZ 85003
Tuesday, May 9, 2023
Program begins at 7 p.m. 
To apply to take part in commencement, please complete this online form.
Rio Salado Commencement Live Stream
The event will be live streamed beginning 7 p.m. May 9.