Thursday, November 16, 2023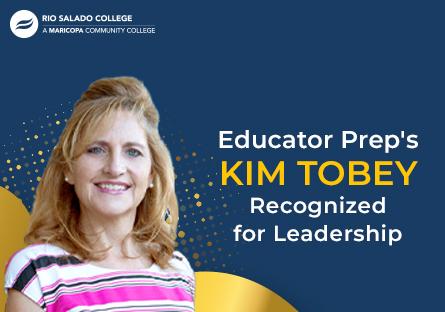 By Mira Radovich, Senior Contributing Writer
Rio Salado College's Kim Tobey is one of four finalists for the 2023 MSSBTA Transformation Leader of the Year award.
The award honors technology leaders and innovators from across the state and is sponsored by the MSS Business Transformation Advisory in partnership with Arizona Technology Council and Arizona Commerce Authority.
Tobey is the director for Educator Preparation Programs at Rio Salado College, where she has worked for almost 24 years. 
She was nominated for the Leader of the Year award in recognition of her 30-plus years of experience in educational leadership and policy advocacy.
Specifically, Tobey has been instrumental in developing support systems for Rio's Post Baccalaureate programs, nurturing teacher candidates and upholding quality standards.
"Receiving the nomination has been quite humbling," Tobey said. "But I know that there are numerous team members at Rio Salado who have helped move forward some very transformational projects that impact our work in the Educator Preparation Program."
"While I am excited to be recognized for my work, I will continue to give my best to model servant leadership for those around me and to think innovatively in hopes that we will find new and exciting ways to empower our education students on their journey to the classroom."
Tobey has served as the executive director of the National Association of Community College Teacher Education Programs since 2012.
Prior to that she served as an area director for YoungLife, and taught science at Northwest Christian School. 
Award winners were announced at the Governor's Celebration of Innovation Awards at the Chateau Luxe on Wednesday, Nov. 15, 2023.
The Arizona Technology Council serves as the state's premier networking and trade association for science and technology companies. The council also advocates for a technology-based and business-focused agenda at the local, state and federal levels.
RELATED LINKS
Rio Salado Celebrates Lifelong Learning Awards 2023 Honorees
New Partnership Expands Student Opportunities in Education
Championing Children: How a College Grad Realized His Teaching Dreams