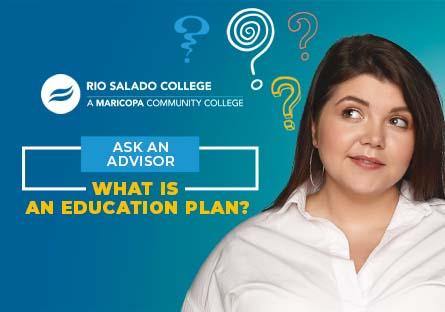 Like most major life decisions, it is important to map out a plan to help you meet and achieve your goals. An education plan serves as your roadmap to assist you in determining which courses are required for you to complete your degree or certificate. 
You can work with your academic advisor to create a semester-by-semester plan personalizing and prioritizing which courses you would like to take first. Then, your advisor can help you identify when you can enroll in them to help determine when you will reach your goal. 
Whether you need to develop an education plan to satisfy the assignment in your FYE (First Year Experience) course or if you are a continuing student not enrolled in an FYE course, it is a great idea to have such a plan to keep you on track to complete your goal. If you are making this plan for your FYE class contact your advisor to schedule an appointment early to allow plenty of time to complete the assignment. You will find your advisor's contact information and an online scheduling tool listed in the RioLearn Portal. In the advisor section there is a link to RioCompass and from there you can find the Academic Planner link.
You and your advisor can look at your degree requirements on both the Rio Salado College website and through the Degree Progress Report in your Student Center. If you have attended other colleges outside of the Maricopa Community Colleges, please have official transcripts sent to Rio's Admissions, Records, and Registration Department.
With the Academic Planner link, you and your advisor can select courses that will meet your remaining program requirements and list them on the right side of your planning tool. You can then drag and drop your courses to the appropriate semester on the left to plan how many classes you want to take at a time and the order you want to take them in (your advisor will help identify if a prerequisite is required). Developing a plan like this with your advisor prevents you from taking unnecessary courses and delaying the time required to complete your degree or certificate. Your education plan can aid you in establishing a clear pathway for transferring to a university (if this is a part of your desired goal).
Overall, you can have confidence that the courses you are taking are working toward your educational and career goals. You will not have to spend time contemplating each semester as to which course comes next, as this work has already been done.
Your Academic Advisor is looking forward to hearing from you soon; and we cannot wait to assist you with creating your education plan. Let's get started!
Sherri Moore-Williams is a Student Services Analyst on the Science, Technology, Engineering, & Math (STEM) Field of Interest team for the Academic Advisement Department at Rio Salado College. She can be reached at sherri.moore@riosalado.edu