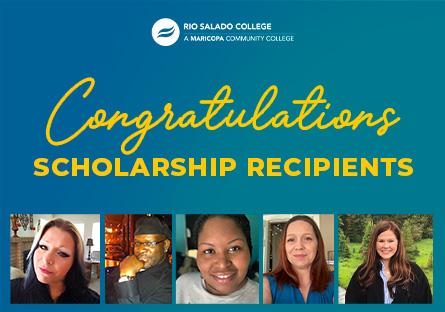 Seven students have received Fall 2022 Rio Salado College scholarships and have shared how the scholarships are helping them pay for school and reach their academic goals. 
If you are looking for options to help finance your education, scholarships are available no matter where you are in your educational journey. It doesn't matter if you're just starting or returning to school after working in the professional world— opportunities abound! 
Even better, the Maricopa Community Colleges have made it easy to apply for hundreds of student scholarships with one application. Don't wait - the deadline to apply for 2022-23 scholarships is Monday, Oct. 31, 2022. Apply now!
Meet the Fall 2022 Rio Salado Scholarship Recipients
Antonnett Goss - Hazel Davis Literacy Legacy Scholarship
This scholarship has helped me at the most vulnerable time of my life. I have had some significant changes happen in my life that have financially set me back and I am grateful to receive the scholarship at this time. It will help me achieve my future goals and improve my knowledge. I hope to complete my associate in arts degree soon and positively affect the lives of those around me.
Lloyd Whitty - Melody Layne Miller Memorial Scholarship
I'm a Navy Veteran and becoming a teacher is my way of giving back for what the military has given me. I'm currently in the Teacher in Residence program. My GI Bill benefits will expire in May. I have one more year until I finish the program and I don't want to incur any student debt. This scholarship will help me continue my education and graduate in May 2023 as a certified special education teacher.
Meagan Borchart - Dr. Larry Celaya Memorial Scholarship
Throughout my life, I have not conducted myself with the intention of gaining recognition. This is why it means that much more to me to have been recognized for my efforts. This scholarship is going to help ease the financial burden on me and bring me closer to the goals I have set in furthering my education and earning my degree in administration of justice studies.
Rachel Myers - Thor Family Endowed Scholarship
I am a single parent of two boys, one of whom starts college this year. I was seriously considering putting the pursuit of my associate degree in accounting on hold so that I could provide everything my son needed to start college without it being a financial burden on us. Receiving this scholarship made it possible for both me and my son to reach our educational goals. 
Lauren Norris - Dr. Harry E. Whyte Memorial Scholarship
Before choosing dental hygiene as a career, I struggled to find an area where my passion and interests came together. I also had some self-doubt about reentering school at 29 years old. I applied to Rio Salado's dental hygiene program, which is 15 months long versus two years. This was my first choice and a better option for me financially. Working is not an option as the program is highly demanding. This scholarship is helping alleviate some of the financial burdens I have faced. 
Ma'Kaila Strange - We Are Rio Scholarship
Receiving this scholarship means so much to me, my family, and my education. It will help me pay for school and finish with less debt, and also allow me to recognize that others see my potential to contribute to our society. I have suffered from my own disability, which makes it hard to accomplish my goals. I'm so proud of myself because I have been able to graduate from high school and obtain my associate degree with plans to transfer to university. With this scholarship, I'm so much closer to getting my bachelor's degree in Information Technology.
Charleyne McConnell - Winston and Dr. Jean Tease Scholarship (for students attending Rio Salado and/or Phoenix College)
It is such an amazing feeling to be recognized and encouraged through this award. I am attending Phoenix College (PC) because of the courses and the countless opportunities they offer. I've received an invitation to become a member of the National Society of Collegiate Scholars Honor Society. I am currently enrolled in the Health Information Technology program and plan on transferring to Arizona State University for the bachelor's in nursing program. My ultimate goal is obtaining a nursing doctorate degree and a career specializing in nurse anesthesia.