Thursday, November 3, 2022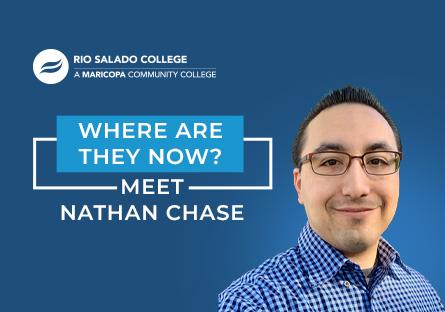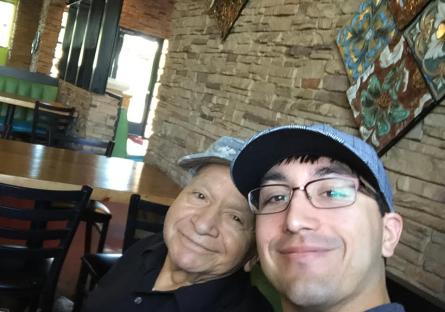 Nathan Chase and his grandfather
Rio Helped Alum Put Family First, Start Career
By Mira Radovich, Senior Contributing Writer
Originally from Southern California, Nathan Chase's education and career goals were inspired by his family history.
"Half of my family came from Mexico to give not only their children, but us grandchildren an opportunity to go to college and have a better life," Chase said. 
Chase took a few college courses, and while working a part-time night shift with FedEx Ground, he decided to pursue a paralegal degree and turn his grandparents' sacrifice into a successful future. 
"I chose Rio Salado College because I wanted to have the benefit of completing courses on my own time," Chase said. "As I was employed, attending traditional college courses in-person didn't always work out for me."
With an interest in the law, Chase enrolled in Rio Salado's online associate degree program in paralegal studies so he could take classes on his schedule.
Then a family member's health issues helped him appreciate that convenience and flexibility even more.
"After I resigned from my job to focus full-time on my paralegal degree, my grandpa's health declined," Chase said. "I had to become his 24/7 caregiver until his passing. Rio Salado made caring for him easy because I didn't have to drive to school or call someone to take care of him during my absence."
As a self-described introvert, Chase found online learning initially had a few challenges.
"Learning from home was different for me, but as an introvert, I loved being able to listen to music as I went through each lesson," Chase said. "I learned the lesson content myself, but if I had a question, I could always ask my instructors as needed."
He also learned some helpful tips along the way.
"If I could offer any tips for students doing online college, it would be to set boundaries," Chase said. "Maintaining a social life is not always easy because of how much time college demands. But when you weigh the balance between fun and school, making time for college will be worth it."
Chase started an internship at TOPDOG Legal Marketing LLC in spring 2021 and was hired in a full-time position after he completed his associate degree in the summer of 2021.
"Working at TOPDOG has further honed my legal knowledge and taught me many skills on the marketing side including search engine optimization, and web and graphic design," Chase said.
In fact, Chase recently completed certifications in Google Ads Search, Google Ads Measurement and Google Analytics to supplement his work as a legal marketing specialist.
He credits his Rio education for creating a career launchpad.
"My degree helped me gain valuable insight to how the legal systems work at the state and federal levels," Chase said. "Now with the skills I have learned at TOPDOG, I can say my future looks promising."
That future includes pursuing personal interests.
"I have many dreams, but I realize I can't do all of them in a single lifetime," Chase said. "I'll continue working but I also want to open a cologne business that I'm almost done building called The Jesters Collection, LLC."