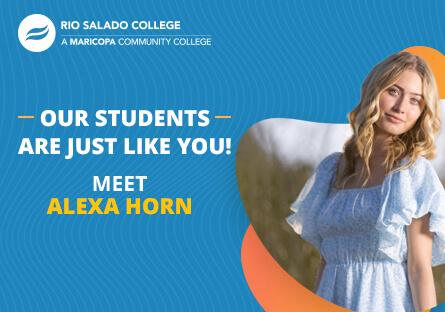 By Mira Radovich, Senior Contributing Writer
Alexa Horn knows how to out-muscle the competition. She flexes and uses all of her skills, both physically and academically, to get ahead in life.
As a Desert Vista High School student, Horn took dual enrollment classes through Rio Salado College to get a head start on college.
"Dual enrollment has allowed me to get ahead of others in my classes," Horn said. "It also saved me a lot of money on textbooks and tuition at university because I already paid a lower amount to get those out of the way in high school through Rio."
When Horn graduated from Desert Vista in May 2021, she also earned two associate degrees through Rio Salado in addition to her high school diploma.
She transferred her credits to the University of Arizona where she is now pursuing a bachelor's degree in physiology.
"I'm in my fourth semester at the U of A and it is going amazing," Horn said. "I can't tell you how many people are so impressed when I tell them I am graduating a year early and that I entered college already having 64 credit hours completed."
Horn enjoyed many of her Rio courses and one favorite was linguistics.
"It was very interesting, and I loved how the class was taught and organized," Horn said. "In reality, all of the courses give you plenty of time to take things at your own pace and the professors were an amazing help and were always there to answer questions in a timely manner."
Horn is especially grateful for how her dual enrollment classes set up her college experience.
"I love all the opportunities I have at U of A due to not having to worry about gen ed classes because dual enrollment mostly covered them," Horn said.
Even though she is currently enrolled at a university, Horn's time as a Rio student is not over.
"Even now I continue to use Rio Salado," Horn said. "I decided to take my General Physics 111 class at Rio because of the flexibility. I enjoyed the class so much and learned so much from it that I will take 112 in the next couple of months." 
Thanks to her dual credits, Horn will graduate from U of A in spring 2024 (one year early) with her bachelor's degree and plans on attending a Doctor of Physical Therapy program at Northern Arizona University after.
"Getting ahead in my education will allow me to enter a PT program a year earlier and to get out into the world in a stable job even faster as well," Horn said.
To help prepare for her future career, Horn has started a tech position at a PT clinic in Tucson.
"I am working on learning more about exercises and the flow of how physical therapy works as I hope to work with athletes one day," Horn said. 
Until then, Horn happily reflects on how Rio Salado has helped set up her future.
"Dual enrollment classes in high school are a key part of where I am at in my college education today and a reason why I am thriving," Horn said. "I would recommend Rio to everyone taking online classes for college credit as they have the most flexible options and availability for class starts." 
RELATED LINKS