Friday, September 15, 2023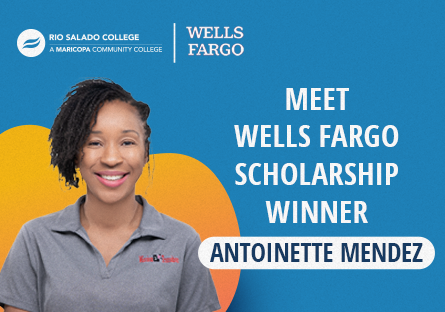 Entrepreneur Student Uses Grant to Supplement Business Venture
By Mira Radovich, Senior Contributing Writer
Former school counselor Antoinette Mendez is on a mission. 
The Rio Salado College student just started her own business to help provide college and career advice to middle school students in underserved communities.
"My mission is to help youth develop a plan for the future that leads to better social and economic mobility," Mendez said. "By focusing on underserved middle school students, I aim to ensure equal opportunities to pursue higher education and fulfilling careers."
With those formidable goals in mind, Mendez formed Mission 2 Transition™ in early 2022. To help get her company up and running, Mendez turned to Rio Salado College where she enrolled in the Small Business Management II certificate program.
"I chose Rio because the online courses give me the flexibility to be successful," Mendez said. "I have the option to take single or multiple courses at one time. The scheduling allows me to conveniently map out the timeline to completion."
Mendez specifically chose the business program to realize her dream of owning an education consulting business.
"Rio's coursework is providing me with technical knowledge needed to launch and operate a successful business," Mendez said. "Being able to learn all the aspects of entrepreneurship has allowed me to start putting systems and processes in place to begin generating revenue."
Mendez's time as a school counselor had a profound impact on her life goals.
"I witnessed the vast potential and talent possessed by today's youth, and also observed the challenges they faced due to limited access to resources and guidance," Mendez said. "By recognizing the pivotal role of early intervention in shaping a student's future, I felt a strong responsibility to bridge this gap."
To help get Mission 2 Transition™ off the ground, Mendez applied for a Wells Fargo Advancing Small Businesses grant through its partnership with Rio Salado College.
"The Wells Fargo grant has enabled our students to get the funding they need to start or develop their small businesses," said Alissa Tenorio, accounting lead at Rio Salado College. "It is exciting to see their businesses go from idea to reality as they receive funding, coaching, and mentoring."
"Receiving the scholarship proves to me that individuals see value in the work I am doing and believe in my ability," Mendez said. "It also offered motivation and a financial reprieve. Thus far my husband and I have been funding the business."
Mendez plans to use her scholarship funds to create a series of college and career activity guidebooks that feature self-discovery and career exploration assessments.
"I enjoy the freedom to design innovative programs and curriculums tailored to each student's unique needs, aspirations, and talents," Mendez said. 
Other aspects of Mendez's business are to develop education action plans for students to successfully transition into and out of high school, and offer tailored individual and group-based programming and advising.
"The transformative impact of informed career and college guidance is particularly profound in low-income communities," Mendez said. 
"By providing these essential services, I aspire to empower students to dream big, realize their potential, and envision a future beyond their immediate circumstances."
Mendez hopes to complete her certificate program in December, and to take her business to the next level.
"My career goals include shifting from owner and operator of my business to creating job opportunities for individuals, which is not something I take lightly," Mendez said.
Rio Students: Apply for Funds to Advance Your Business!
Rio Salado College has grant funds available through two partnerships to help students get their businesses off the ground. Fund awards range from $500 to $4,000 and are based on project scope and business status. The deadline to apply is Sept. 30, 2023. For more information, visit https://www.riosalado.edu/news/2023/apply-funds-advance-your-business or complete the application form . Questions? Email Dr. Lily Davidov at lily.davidov@riosalado.edu .
RELATED LINKS
The Power of Online Learning: 5 Ways Rio Salado Helps Students Thrive
Erica Martinez Holds Rio Salado Accountable for her Love of Business Law