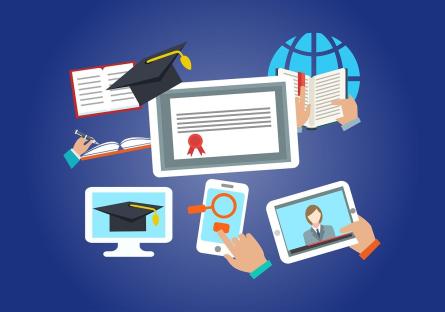 For more than 40 years Rio Salado College has offered remote learning opportunities to students across the country. We've seen first-hand how the convenience and flexibility of online learning has been a boon for students, giving learners from all walks of life a chance to broaden their horizons and grow their skill-sets at a pace that fits their lives. Whether they are high school students looking to get a jump-start on a college education, adult learners returning to college to pick up where they left off, working professionals eager to learn new skills, veterans striving to serve their communities, or incarcerated students looking for a second chance through education, online learning opens a window into a world of possibilities for them.
Are you wondering if online learning is right for you? Consider a few of the benefits that come from taking classes from the comfort of your own home.
Stay at Home, Not on the Road
One of the biggest benefits to online learning the time and money you'll save from not having to commute to a campus throughout the week. When you factor in gas, wear and tear on your car, and/or the cost of public transit or rideshares to get to school, being able to learn from home can help you save a lot of money. It can also be a big stress reducer: research has found that the stress caused by regular commuting could lead to increased blood pressure, poorer quality of sleep, and anxiety. The time savings can also be significant—learning from home could save you hours every week that you would would spend just going back and forth in traffic.
Rio Salado graduate Erin Juarez earned her post-baccalaureate teacher certification at Rio Salado and appreciated the flexibility of learning from home.
"Being able to learn from home was very beneficial," Juarez said. "It gave me the opportunity to hold down a job, take care of my family, and reduce costs for fuel. Learning from home provided me the opportunity to learn when I had the time to learn."
A Personalized Experience
Education shouldn't be a one-size-fits-all process. We all have different needs and skill sets as learners. Online learning gives you the freedom to set a schedule and pace that works for you. Do you want to take an accelerated course and complete your studies in half the time? Rio Salado offers 8-week course options on many of our online classes. Would you rather take your classes late in the day or in the wee hours of the morning? Our online courses are asynchronous—that means your class starts when YOU log in, not at a predetermined hour that doesn't align with your schedule.
Because online classes are not tied to a physical space, you do not need to worry about getting "lost in the crowd" in a big lecture hall. You won't be one among many faces—YOU are your class. Our RioLearn learning portal makes it easy to communicate with your instructors, giving you the tools and feedback you need to navigate your coursework and stay on the right track.
Alexa Horn, a high school student who earned two Associate degrees through Rio, loved the personal attention she received in her classes. 
"I loved how the class was taught and organized," Horn said. "All of the courses give you plenty of time to take things at your own pace and the professors were an amazing help and were always there to answer questions in a timely manner."
Cost Effective
In addition to the money an online student can save on commuting, let's not forget that one of the biggest benefits to online learning is a more affordable tuition rate! Online community colleges like Rio Salado College offer a tuition rate that's significantly lower than what's on offer at four-year state colleges. An additional savings benefit is class materials: many online courses either come with textbooks and course materials provided or offer them at a very accessible price.
Graduate Mariah Schneider is grateful for Rio advisors helping her find ways to make her college experience even more affordable.
"I've been able to talk with academic advisors whenever I need to determine the most economical and efficient path toward getting my degree," Schneider said. "My advisors also helped me identify financial and community engagement opportunities. They assisted with finding scholarships related to my degree goals and introduced me to the Phi Theta Kappa honor society chapter at Rio Salado." 
Career Training in 2 Years or Less
If you need to pivot to a new career or you're looking to advance in your career, getting an associate degree, certificate of completion, or microcredential at Rio Salado can help you get there. Online education offers a wide range of career-ready classes that you can take either a la mode or as full-on degree programs, giving you the flexibility you need as a student to learn life-changing skills while working and/or taking care of your family. The skills and knowledge you can acquire in two years or less at Rio Salado could serve you well for the rest of your life.
For Giselle Velazquez, earning an associate degree in cybersecurity from Rio Salado put her on a new and rewarding career path.
"I chose Rio because as an adult learner and a working professional, I needed a college that could offer me the option of online classes for the entire program," Velazquez said. "Rio Salado provided me with the opportunity to earn my associate degree fully online, and I loved it."
It's Never Too Late
For adult learners, online learning can be a great way to finish what you started. Need to complete a High School Equivalency diploma? Rio Salado College offers Adult Education courses (including English as a Second Language) to teach you the skills you'll need to complete this important educational milestone. Completing this level of learning can put you on the path to earning an associate or bachelor's degree down the road, an accomplishment that you're never too old to strive for! 
Continuing your educational journey can lift your spirits to new heights. Harsha Patel, who earned her High School Equivalency (HSE) in 2022, knows that feeling all too well.
"I want to be a role model for my children, as they both finished college programs," Patel said. "This affects my self-esteem in a positive way because I was able to pass the RLA (GED® language arts) test. I proved to myself that hard work and perseverance would pay off!" 
Self-improvement is perennial. Whether you're in the spring of your youth or gracefully entering your winter years, an education at Rio Salado never goes out of season.
Article by Austin Brietta