Wednesday, September 13, 2023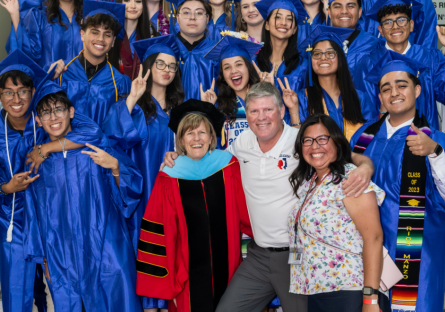 Who said you can't be in two places at once? Thanks to Dual Enrollment, you can have one foot planted in high school while the other is in community college. Dual enrollment gives high school students an avenue to pursue transferable college credits that can help them earn an associate degree and accelerate their educational journey toward earning a bachelor's degree. This article from the U.S.Department of Education points to research that shows that dual students are more likely to go to college, stay in school, get higher GPAs, and finish college.
Students who sign up for dual enrollment are doing college level work in the same courses as their high school peers. The only difference? They signed up for the college credit. Taking dual classes can be a challenge (like any class you'd take) but one that can be met with good time management and smart study habits.
The benefits to completing a dual enrollment program are considerable. Read on as we unpack what dual can do for you, share some success stories from recent dual graduates, and provide information on how to enroll.

You Can Save Money Through Dual Enrollment
Dual enrollment provides you with the opportunity to complete general education and prerequisite courses at a significantly lower cost than what you would pay at a four-year state school. Completing an associate degree as a dual student at Rio means getting up to two years of a four-year degree out of the way at a more affordable tuition rate. Your dual classes happen at your high school with a teacher who is qualified to teach dual enrollment, so you'll still be in your academic comfort zone.
University of Arizona student Alexa Horn graduated with a bachelor's degree in physiology in a shortened timeframe, thanks to completing her dual enrollment program while she was a student at Desert Vista High School.
"Dual enrollment has allowed me to get ahead of others in my classes," Horn said. "It also saved me a lot of money on textbooks and tuition at university because I already paid a lower amount to get those out of the way in high school through Rio."
You Can Get to the Finish Line Faster
Completing dual can help you "jump the line" on your journey to graduation. Completing your general education requirements while at community college can help you get to your Bachelor's degree even sooner, which gives you more flexibility in terms of what you want to do post-graduation. While your peers are still working toward their four-year degrees, you could already start working toward a master's degree, enter the job market as a qualified candidate, take time off to see the world, or turn your minor into a new major with that extra time you've saved from being a dual graduate.

Recent Mountain Ridge High School graduate Tegan Bernard, who completed his associate in arts degree at Rio Salado in May, recommends not being intimidated by higher learning.
"Dual enrollment classes are a huge help in getting ahead," Bernard said. "I will finish my bachelor's degree early, work on master's degree quicker, and enter the job force even faster."
You Don't Need to Know Where You're Going to Get Ahead
You don't have to know where you're going after high school when you enroll at Rio Salado. The purpose of dual enrollment is to help you get the classes you need and earn an associate degree to prepare you for wherever you go next. Take classes at Rio, see what resonates with you, and let a plan form as you go along if you don't already have one in mind.
That approach worked for Taylor Garman. The former Xavier College Preparatory student worked on a master's degree at Trinity College in Dublin, Ireland. Graduating with both a high school diploma and an associate degree from Rio Salado, Garman was able to graduate with a degree from California Lutheran University in half the time thanks to all her transfer credits.
"Initially, I decided to take dual enrollment simply in hopes that my university of choice would take my credits," Garman said. "As I began when I was only a freshman, I didn't know where I would be attending university, so I took a chance and enrolled just in case."
You Can Earn More Money
Studies have shown that getting an associate degree can increase your earning potential more than just having a high school diploma or completing some college courses without getting a bachelor's degree. While that pay bump can vary depending the industry, on average a two-year degree has a tangible and positive impact on the kind of salary you can draw.
For someone getting out of high school, having a two-year degree on your job resume can make you a very attractive candidate to recruiters. It displays an ability to set and complete goals, juggle multiple priorities, and manage your time: all positive qualities to employers across a wide variety of fields.
Horizon High School graduate Caden Kelleher completed an associate degree program through dual enrollment at Rio Salado. Kelleher said his academic success will come in handy for his enlistment in the U.S. Navy. 
"Having my associate degrees offers additional promotion opportunities," Kelleher said.
How to Get Started 
We've put together these videos to help eligible students get enrolled. In order to be eligible for dual enrollment you must be a student at a participating high school in the program and meet their requirements. The credits you earn through dual are typically transferable to most of the Arizona public colleges. Most colleges and universities accept dual enrollment, but it is strongly encouraged you check with the school you want to transfer to to make sure the courses you're taking will be transferable to that institution.
Need help getting started? Rio Salado has a team of success coaches for our dual enrollment students. These advisors can help you create an academic/career pathway for you with classes specifically geared toward getting you an associate degree or certificate of completion. Give us a call at 480-517-8600 or email via Dual.Enrollment@riosalado.edu.
What if My High School isn't in the Dual Program?
If your school isn't in the dual program, don't worry! You may have the option of Concurrent Enrollment available. Concurrent enrollment offers you access to online general education classes and provides a pathway toward earning an associate degree while you're still in high school. The credits you earn at Rio could transfer back to your high school! Check with your high school to see if they can use concurrent enrollment college classes to satisfy their requirements. An English class you take at Rio could take the place of a class you need to take at your high school. You could potentially earn college credit while also satisfying your high school requirements!
Article by Austin Brietta
Watch & Learn
Ready to enroll as a Dual student? Check out these videos: