Dental Hygiene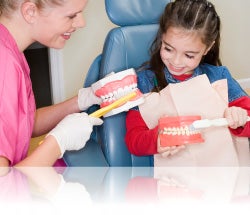 As a licensed oral health professional, you will focus on the prevention and treatment of oral diseases and the impact of oral health to overall health. Dental hygienists enjoy a variety of work settings such as clinicians, educators, researchers and administrators.
Text - Part 2
Dental Hygiene Program Goals
The goals of the Rio Salado College Dental Hygiene Program are to:
Prepare graduates who possess the skills and knowledge to competently, legally, and ethically assess, plan, implement, and evaluate dental hygiene services for diverse populations.
Provide an innovative and responsive curriculum that meets and anticipates the needs of the dental hygiene profession.
Cultivate an inclusive learning environment that encourages scientific inquiry, community service, life-long learning, and professional development.
Degree Program
The profession of dental hygiene begins with an Associate in Applied Science degree and currently culminates with a Master's degree in dental hygiene. Many dental hygienists obtain a Bachelor's degree in dental hygiene, either while pursuing their dental hygiene licensure or after graduation from an associate-level program.
See the MCCCD webpage for additional information about the MCCCD's associate level and concurrent enrollment programs, as well as information about the Allied Health student handbook and district policies regarding Health and Safety Requirements for Maricopa students.
For more detailed information about the Associate in Applied Science degree in Dental Hygiene offered at MCCCD schools, see the link below.
Enroll in our dental hygienist program today! Interested students are encouraged to contact an academic advisor.
Learn More: Attend an Information Session
The dental hygiene program information sessions have been cancelled until further notice. Please check with a program specific advisor for information regarding the dental hygiene program at Rio Salado College.
Learn more about our class schedule, degree programs, enrollment and financial aid.
Licensing Disclosures
The Associate in Applied Science (AAS) in Dental Hygiene degree is designed to meet the academic requirements for a Licensed Dental Hygienist in Arizona. The program is only offered and available to students located in Arizona. Rio Salado College has not determined whether the program meets or does not meet the academic requirements for licensing in other states.