About the Cafe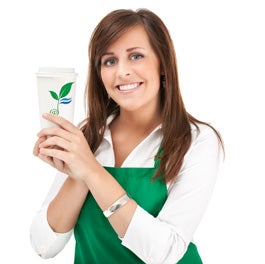 The Café at Rio is a sustainable teaching kitchen that serves students, faculty, staff and the local community.
Our philosophy is simply to serve sustainable food that nourishes the body and soul while not compromising future generations from doing the same. The Café plays an integral role in Rio Salado's Sustainable Food Systems student program.
Sustainable Features
The Café strives for zero-waste generation through comprehensive recycling and composting. We feature seasonal menus, locally produced food that is produced using humane labor practices.
Other efforts include:
Energy efficient appliances
Trayless dining
Compostable and recyclable food and beverage containers
Interior decorated with environmentally friendly paints and adhesives
Peak of Freshness
Each week, Café at Rio chefs contact local farmers, ranchers and artisans to learn what products are at the peak of freshness. These products are then featured in the Café daily specials, allowing the chefs creative freedom to use what is being harvested from local farms in our community. 
Partnering With the Local Community
In developing partnerships with local producers, the Café stimulates the local economy while reducing "food miles" -- the fuel, travel distance, time and related costs of transporting products from producer to end consumer. In turn, the Café chefs receive and prepare better tasting ingredients.
The Sustainable Food Systems Program for Students
Students in Rio Salado's Sustainable Food Systems program also contribute to our fresh product selection. Vegetables grown as part of the Sustainable Food Systems program are prepared and served in the Café, as available.
The Café works to bridge the gap between consumer and sustainable producer. Through education, both students and Café help heighten sustainable food practices by increasing the number of consumers who are committed to sustainable food production and consumption.